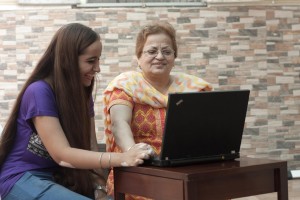 The computer classes at Samvedna Senior Centre are a big hit with our members. From grand dads to great grand moms we have a whole generation of seniors coming to our centre for the computer classes. Seniors want to learn computers for various reasons, while for some it is a learning experience for others it is a way of staying in touch with their families and friends.
For the slightly younger seniors learning computers is important so that they can enable themselves technically for second careers and also setup their business online.
Then there are others who are already conversant with the basics but would like to be more tech savvy in the online world and explore the power of internet be it online banking, trading, blogging, shopping, ticket bookings and much more.
Some of our members have become serious bloggers and routinely share their opinion and contribute to blog sites like Speaking Tree. Some like to follow the politicians and film stars while others track the cricket score on twitter.
But the most enthusiastic of the learners are seniors who somehow missed the opportunity for computer learning and would now like to make the most of the time available to them. When they start connecting with their old friends and grand kids on Facebook they are on new high and very excited.
The first few classes are always a challenge and it's all about removing the fear! Initially we encourage them to get a grip on the mouse and get familiar with the keyboard. Slowly the hesitation goes away and they start getting comfortable with the machine. Gradually they want to learn more and more and show interest in taking notes.
Our computer classes start from basics and then gradually cover all topics like email, social media, internet etc. The pace of learning is modulated according to the class composition and we give everyone lots of time to practice hands on. A typical course schedule to get comfortable requires at least three months.
There is no age for learning and the computer learning is a perfect way of keeping the mind stimulated and engaged.