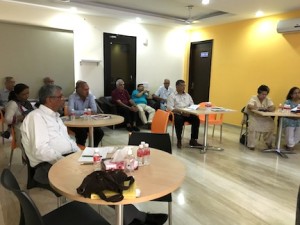 We organized a Computer and Internet workshop at our new senior club Great Times by Samvedna yesterday. It was a two hour workshop on internet basics, email and Facebook. The workshop was attended by senior citizens from various localities of Gurgaon.
The workshop was interactive and started with a self-assessment of each participant. While there were some participants who were aware of email and Facebook there were others who had no prior exposure to computers. 90% of the participants did have an existing email account and about 70% had a Facebook account as well. While most of the participant could manage to operate these tools they had lots of questions on the concepts and configurations and capabilities of these applications.
The facilitator began with the basics of computers to get everyone started and warmed up. Participants were made comfortable and an environment was created so that they could ask their questions freely without hesitation. The basics of email, Facebook and application of these tools were discussed in a simple and interactive way. The participants asked questions about privacy settings on Facebook, issues of spam emails, security concerns and other general queries.
Overall it was a great morning with a curious and vibrant set of seniors, keen to learn computers and be independent with technology.
———
Great Times by Samvedna is our new social and recreational club in Sector 43, Gurgaon, for members 55 years and above. Its a place where members come to get fit, make new friends and share their life experiences and give back to the community.
Activities at the club include fitness exercises, mind stimulation, tambola, dancing, book reviews, movies, community outreach, and talks on health management. The club has a library, computer room, visits by physiotherapists and doctors, access to board games and cards, a fully functional pantry with healthy and affordable snacks and tea and coffee on the house.
Transportation is available on select routes. There are special discounts for group memberships. The club is open Monday-Friday, 11am to 4pm. There are special classes for yoga, computers, music and painting.
Call us for more info – 9818421446, 0124-4229659 | Address – Great Times, 1304 St. Thomas Marg, Sector 43 (Opp Shalom Hills School), Gurgaon