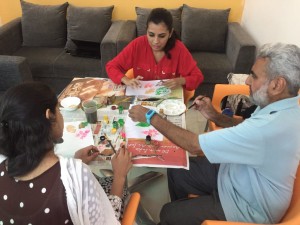 Our Cognitive Wellness Programme is designed for individuals with Mild to Moderate Dementia, Mild Cognitive Impairment or even Depression. It combines a wide range of activities that are known to provide mental and physical stimulation with an aim to slow the progression of dementia.
As part of this program, we have included Cognitive Stimulation Therapy (CST), an internationally recognized therapy that has been shown to be successful for people with dementia. This is an evidence-based therapy in which we conduct group sessions centered around a theme.
The positive effects of CST on people with dementia have been demonstrated in numerous researches. Dementia is a progressive disease with no long-term cure, however in the short term the therapy is able to show improvements in cognition.
Features of Cognitive Stimulation Therapy
Suitable for individuals with Mild to Moderate Dementia
Conducted in small groups
Conducted by two facilitators / therapists
Involves active engagement and stimulation of participants
The facilitators create an environment that is optimal for learning
Encourages socialization, which also helps provide benefits to the participants
One of our members is an ex-music lecturer from Punjab, when he comes for the sessions he participates in Yoga with the group. He also sings beautiful bhajans for the group and participates in group activities. With the program he has found a social platform of acceptance and constructive engagement. Challenged by speech he can still express his thoughts through various stimulation therapies conducted as a part of the sessions.
A Typical Session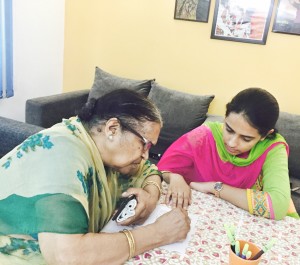 A session is well-structured and follows a particular pattern where the main contents are prepared and planned in advance.
It starts with introductions. Introducing everyone in every session helps orient the members to the group. This is followed by the soft ball game in which members pass a ball around and the person holding the ball shares their name. The ball can be passed around a second time, giving people the opportunity to share one more thing related to the main activity.
The next activity, the group theme song, is a fun way to help everyone connect with each other. The same song is sung each time for the purpose of consistency. This improves the recall of the members. This is followed by current affairs in which one news item is discussed.
The main activity is related to the theme picked for the session which is discussed from pre-prepared Modules. The participants are encouraged to discuss the theme and memories from the past are brought forward and connected to the present.
The final closure activity is an important part of CST and it helps as a cue for the members to know that the session is over. The session is summarized and the members are asked to share their opinions regarding the session. The time and day of the next session are also discussed.
Benefits of the therapy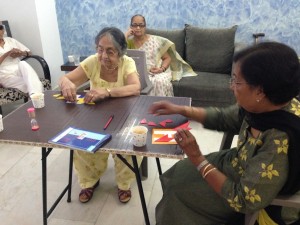 The benefits of mentally stimulating activities have been known for long. Research has shown that individuals involved in any form of structured therapy for cognitive stimulation perform better at tests of cognitive function than those who were given standard treatments and other activities such as TV, physical therapy and standard medications.
Here are some researched benefits of Cognitive Stimulation Therapy in particular:
Improvements in MMSE scores (Mini Mental Status Examination is used to diagnose and identify the stage of dementia)
Improvements in language (naming, word-finding and comprehension)
Improvements in visuospatial skills (finding the way, understanding and recognizing objects in space)
Improvements in cognition (CST is as effective as dementia drugs)
Significant improvements in quality of life, as per participants themselves
Positive reviews from carers of participants stating the 'positive experiences of being in the groups', 'supportive and non-threatening environment'; and improvements in mood, confidence and concentration.
Application of the therapy in the Cognitive Wellness Programme
Our Cognitive Wellness Programme goes beyond Cognitive Stimulation Therapy by including other stimulating activities. To successfully apply the internationally-acclaimed CST, we also adapted its modules to suit the Indian cultural context.
Our session plans follows the basic structure of a CST session, but includes further activities after the 'Main Activity' is completed. Our additions include mentally stimulating activities such as word puzzles, stimulating worksheets, colouring, art and craft, and festival celebrations.
Here are some features of our Cognitive Wellness Program:
Designed for individuals with Dementia or Cognitive Decline caused by Depression, MCI, ageing
Conducted by two trained psychologists / gerontologists
Involves themed sessions that provide mental and physical stimulation and active engagement
Provides the social benefits of group interactions
Well-structured, planned and recorded intervention
Cost-effective
The program has been successful in giving meaningful engagement to those, who have retired from all task they were once proudly active with. Our member from Lucknow is one of those. She is a well educated, intelligent woman who had to move to Gurgaon to live with her son and daughter in law when she lost her husband. Despite her Dementia, she has a vibrant personality and can have lively discussions. However, her repetition restricted her conversation topics to a very few. During our sessions, with a little encouragement, she is able to reach a wider breadth of topics for discussion. She has formed bonds with the facilitator and other members and her performance in tasks has been improving with every session. We are proud to see her taking more interest and feeling satisfied with every task completed.
References: The Evidence-Base
---
We at Samvedna Care aim to help seniors live happy, active and independent lives, in the comfort of their home and community through interactive caregiving.
Samvedna Care was established in October 2013 with two complementary goals – firstly to provide quality home care services to seniors with limited mobility or dementia and hence social interaction, and secondly to facilitate stimulating community interaction and participation.
Our Dementia Care services are –
Cognitive Wellness Programme, Sector 57  Gurgaon  –
Samvedna's Cognitive Wellness Programme is designed for seniors with mild cognitive impairment, early dementia or Parkinson's, and elderly lacking in enthusiasm and motivation. The aim is to stimulate the mind of the elderly to slow the progression of the disease or impairment. The sessions are 3 days a week, 11AM-1PM.
At-home services –
Dementia intervention activities by trained Care Specialists (already mentioned above). These services are available in Delhi NCR
More –Dementia Care
Please call us for more info – Delhi NCR – 98184 21446, 124 4229659
Dementia Support Group –
Our Dementia Support group in Delhi NCR and Guwahati is a platform for caregivers to share feelings and support each other.
Please call us for more info – Delhi NCR – 98184 21446, 124 4229659 | Guwahati – 9864015872
General Wellbeing:
With our General Well Being Services we aim to raise the quality of life of seniors, specially those who may have limited mobility and social interaction due to various constraints. Our interactive programme keeps them active and engaged through physical, mental and social activities, all in the comfort of their home.
More – Elder Care