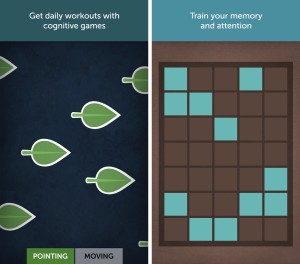 The online world is full of apps and games that promise to purposefully engage and stimulate one's mind. They do so by assigning tasks that work on various aspects like short term memory, visual processing, concentration, reasoning, calculation and problem solving.  A lot of them fall under the category of either 'brain train' or 'brain games'. So what is it all about? Let's find out!
Brain training is nothing but structured use of cognitive techniques, aimed at stimulating and improving functioning of the brain. It can be administered in a number of different ways. Computerized Brain Training is one form of the same, designed to assess and enhance reasoning and judgement. The purpose is to exercise  different parts of the brain and associated cognitive skills. The training games come in a range of difficulty levels and can also be tailored to the specific requirements of the person.

The purpose behind the use of brain training activities is to enhance performance in a sustained manner. Please note that these activities are not aimed at 'treating a disease'. While actively engaging in such activities, individuals strive to exersize their cognitive domains, thereby delaying cognitive decline or neuro-degeneration. It works best when there is some form of novelty and challenge for people, which gives the brain stimulating mental exercise. This protects the brain against aging, keeping it active and healthy.
This upcoming non pharmacological strategy does have strong scientific backing to it as well. A recent study makes ground breaking revelations in terms of treatment and management of dementia. Started in 1998 with almost 3000 participants, a study called Advanced Cognitive Training for Independent and Vital Elderly (ACTIVE) involved them receiving 3 different forms of cognitive training or none, which was periodically evaluated. The results stated that those elders who had received some form cognitive training especially in speed of visual processing, along with a few booster sessions, had almost 48% less chance of developing Dementia.
Dr. Yaakov Stern, one of the leading personalities in Cognitive Neuroscience has this to say: "Lifetime experiences, like education, engaging occupation, and leisure activities have been shown to have a major influence on how we age, specifically on whether we will develop Alzheimer's symptoms or not. This is so because stimulating activities, ideally combining physical exercise, learning and social interaction help build a cognitive reserve to protect us. The earlier we start building our reserve, the better; but it is never too late to start. And, the more activities, the better: the effect is cumulative."
As a part of Samvedna Care's dementia intervention plan for our home clients, we practice Brain Training: both computerized and otherwise, where we introduce them to different forms of games and mental exercises, the underlying premise being providing mental exercise and stimulation to the elderly, allowing them to work different aspects of cognition like: reasoning, perception, concentration, divergent and convergent thinking, and memory.
Every day is new and different for our Dementia patients. The performance in these games vary, with some days they outperforming their previous record, while some days being just the usual. Bringing in variation and challenge is a part of planning that goes in making sure, there is some creativity and newness in the activities, helping the elderly stimulate their brains.
It assures them that despite losing some of their key functionalities, they can engage themselves in intellectual activities that help to restore their self-esteem.
---
Samvedna Care –
We at Samvedna Care aim to help seniors live happy, active and independent lives, in the comfort of their home and community through interactive caregiving.
Samvedna was established in October 2013 with two complementary goals – firstly to provide quality at-home care services to seniors with limited mobility and social interaction, and secondly to facilitate stimulating community interaction and participation.
Our At-Home Care Services for General Wellbeing aim to raise the quality of life of seniors through a monthly interactive programme in the comfort of their home. Our senior care specialists, who are trained psychologists and gerontologists, keep them active and engaged through physical, mental and social activities. The activities include intellectual companionship, mind stimulation activities like puzzles and crosswords, playing games, dancing and singing, social outings for coffee or mall and more.
More – https://www.samvednacare.com/home-care-services/home-care-package/elder-care
Please call us for more info – 98184 21446, 124 4229659