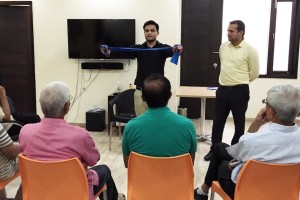 Growing older seems to involve an inevitable loss of strength, energy, and vigor. The frailty and decreased energy we associate with aging, such as difficulty in walking long distances, climbing stairs or carrying groceries are largely due to muscle loss. One of the best ways to keep muscles healthy and strong is through exercises called strength training—sometimes known as weight lifting or resistance training.
The goal of training is to reduce the loss of muscle mass, and the resulting loss of motor function. Several studies have shown that strength (resistance) training can counteract age related impairments. It not only builds muscles, it also improves bone density, speeds up metabolism, promotes balance and even boosts brain power. It will also increase your muscle elasticity and strengthen your connective tissues, tendons, and ligaments, which, from a bio-mechanical perspective, help hold your body in the upright position.
Exercising your muscles will increase not only your muscular strength but also your muscular endurance which is the ability to repeat a movement over and over again. Overweight seniors who combine strength training with a healthy diet are almost certain to shed a few pounds. These exercises are safe and effective for women and men of all ages, including those who are not in perfect health.
There are many ways to work your muscles. Two of the most common are isometric exercise and progressive resistance exercise.
Isometric exercise involves tensing your muscle without movement as in pressing your leg down while someone blocks any movement. With isometric exercise there is no movement. This means you are not working on joint range of motion and flexibility. Because there is no movement, it can also increase your blood pressure. Isometrics allows you the freedom to practice them anywhere without needing weights or special equipment.
Progressive resistance training is another method of strengthening your muscles. This is what you do when you lift free weights, elastic exercise bands, or use adjustable commercial cable machines. It is important to receive prior approval from one's physician before participating in resistance training as heavy weights may cause injury and increase blood pressure in older adults. One must find a balance between increasing how much you are lifting and preventing injury. Research show that the most important factor in somebody's function is their strength capacity. No matter what age an individual is, they can experience significant strength improvement with progressive resistance exercise even into the eighth and ninth decades of life.
Weight training should be done with light weights, using a level that is comfortable for the elderly to lift at the start of training, and increasing repetitions as the muscles get stronger.
Weightlifting can protect you from devastating fractures in several ways. It can can also build bone mass in the spine and the hip, so it's especially important for people with the bone-thinning disease osteoporosis. It can also cut down on pain by increasing the capability of muscles surrounding the afflicted joint, which eases stress on the joint itself. Studies suggest weight training can help people sleep better and even ease mild to moderate depression.
Strength training is simply an amazing resource. It is an incredible tool for us helping to retain independence into our later years.
——
Strength Training Workshop
We would like to invite you to a Strength Training Workshop at Great Times Club by Dr Vikas Lamba (Physiotherapist)
Date and timings – 16th September, 11AM to 1PM
Fee: Rs 300 (Free for Great Times Club members)
Venue: Great Times Club, 1304 St Thomas Marg, Sector 43, Gurgaon (Opp Shalom Hills School)
Call to know more/ register, limited seats – 9818421446, 0124-4229659
——
Great Times by Samvedna is our new social and recreational club in Sector 43, Gurgaon, for members 55 years and above. Its a place where members come to get fit, meet like minded people and share their life experiences and give back to the community.
Activities at the club include fitness exercises, mind stimulation, tambola, dancing, book reviews, movies, community outreach, and talks on health management. The club has a library, computer room, visits by physiotherapists and doctors, access to board games and cards, a fully functional pantry with healthy and affordable snacks and tea and coffee on the house.
Transportation is available on select routes. There are special discounts for group memberships. The club is open Monday-Friday, 11am to 4pm. There are special classes for yoga, computers, spoken english, dance, music and painting. We also have Bridge mornings every Tuesday and Thursday.