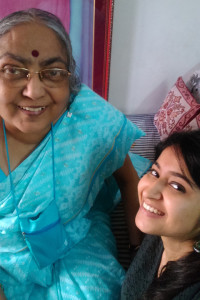 Ashima shifted to another city almost 10 years ago to make her life. While life was shining bright at her, it was the exhaustive work schedules and commitments that made it stressful, and it was a daunting task for her to juggle her family life here and her parents living in the other city. Her parent's health, safety and wellbeing were definitely her concern. There were times when she would worry and wonder late into the night about what they may be doing… were they happy… whether they were facing any form of trouble…was everything being taken care off well.
She feared to receive that one dreaded call at an odd hour, where her loved ones were in trouble and they were left alone to the chaos that unfolds. Though she was far and not undergoing the same physical stress that the caretakers face, the stress was no less. Her pain – guilt and regret was at times overwhelming.
Her aged parents stay alone. Her mom is wheelchair bound and dad is undergoing the wear and tear of normal aging. Though they have a maid and driver to help them with their daily living, it troubled her that they weren't well equipped to deal with any emergency. Relatives were far and  may not be available 24/7 to assist her parents.
She often read about other countries advancing in their approach to handle the situation in a more efficient way. She felt emergency services were the need of the hour here, where a team of professionals would be available to provide complete care to her parents making sure everything was well handled.
Being this far from them, there are times when she felt pulled from both sides. She was required in both the places and would wish to be there for both of them with all her heart. Now the availability of emergency respite services has given her the option of ensuring her parents get the best possible care in case of an emergency, even while living in a different city.
She can be at peace knowing that if some emergency befalls them… her parents won't be alone.
——
Samvedna Care – Emergency and Respite Care:
Our emergency support service is for times when an elderly needs assistance in a hurry. In case of an emergency like a fall, sudden illness or unplanned travel, we are one phone call away, ready to step into action and deal with things. The services include ambulance assistance, an on-call helpline (8am-8pm), hospitalization support and more.
Respite care services give caregivers an opportunity to leave home for a few hours for errands, appointments or simply to unwind, with the peace of mind that comes with knowing their loved ones are in capable hands.
More –Join a Support Group