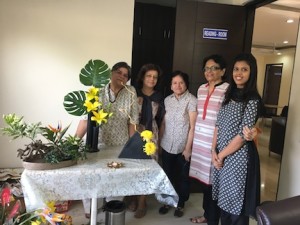 One of the objectives of our senior club is for our members to share their skill and experiences with others, and thereby create a platform for collaboration and sharing and enjoying company of like-minded people. As a part of this initiative our member Mrs. Indira Mishra, a renowned Ikebana expert, conducted a workshop around this unique art form for both members and non-members at our club.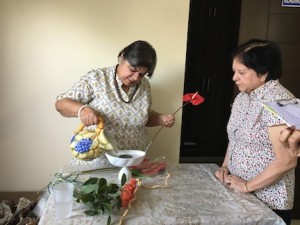 Indira Mishra ma'am started with an introduction to the origination of this flower art form. It was interesting to know how Samurais used this flower arrangement not only for decoration but as a way of communication. Ikebana is an arrangement which requires just 1-2 flowers unlike the western bouquets or arrangements. Flowers are typically arranged in odd numbers in an asymmetrical shape to balance the philosophy of man, heaven and earth.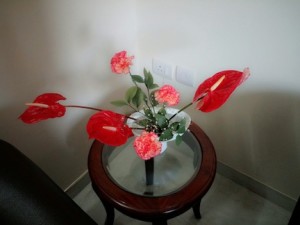 There are different schools of Ikebana, and we learnt the philosophy of the Ohara school. All you need for the décor is a container, water, greens, a flower and fillers and most interestingly the flower should be arranged in a way that butterflies pass through it. The arrangement symbolizes life and growth and is pleasing to the eye as well as therapeutic to the mind.
---
Great Times by Samvedna is our social and recreational club in Sector 43, Gurgaon, for members 55 years and above. Its a place where members come to get fit, meet like minded people and share their life experiences and give back to the community.
Activities at the club include fitness exercises, mind stimulation, tambola, dancing, book reviews, movies, community outreach, and talks on health management. The club has a library, computer room, visits by physiotherapists and doctors, access to board games and cards, a fully functional pantry with healthy and affordable snacks and tea and coffee on the house.
Transportation is available on select routes. There are special discounts for group memberships. The club is open Monday-Friday, 11am to 4pm. There are special classes for yoga, computers, spoken english, dance, music and painting. We also have Bridge mornings every Tuesday and Thursday.