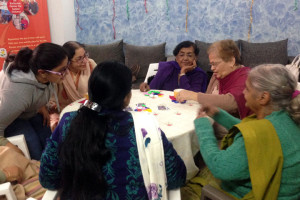 Life is like a camera. Focus on what is important, capture the good times, develop from the negatives, and if things don't work out, take another shot – this is a great reminder for all, that life is precious, and to be enjoyed at every step and stage. For a happy life, it is important to have a positive mindset and be playful. The moment we let go of our worries and problems, even for a short while, they seem less intense.
Often with the onset of old age people tend to get sucked into the endurance mode, and focus more on being practical and let fun and entertainment take a back seat. But, if one has a positive perspective, occasionally indulges in things one enjoys, probably which one couldn't do earlier due to responsibilities and time constraint, and stays socially engaged, old age can become a pleasure. There are many ways for seniors to engage in activities that are playful without resorting to strenuous excersize. Seniors can join dance and music classes, laughter groups, cards and other group activity get togethers and plan group outings to take a break and have some fun. There are also many senior clubs or groups that they can join to be socially active.
With retirement and old age many changes come in a person's life. From our experience of working with senior citizens we have seen that seniors often dwell on how things used to be in the past and that causes misery. Life changes, and that is the way it is. What they need to do is to embrace the change, enjoy what we have right now and look ahead. If they stay positive those very changes can turn into new adventures and learning experiences. It is important to reassure seniors that their family and friends are there for them and love them with all their heart. We just need to widen the horizons and explore the possibilities that will make life as a senior citizen as great as any other phase of life. So back to the quote, "Life is to be enjoyed, not endured."
—–
Samvedna Senior Activity Centre in Sector 57, Gurgaon, is a place for seniors to nourish their mind, body and soul. We have a series of programmes to suit different interests.
The Entertainment programme at the centre is for seniors who want to have some fun and also social interaction with peers. Activities in this programme include dance therapy, music classes, playing cards, Tambola and movie outings. Know more here –Caregiver Services