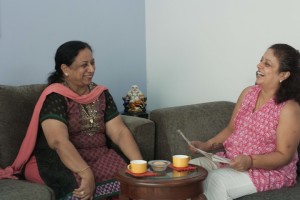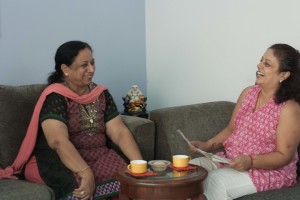 The expression of one's feelings, thoughts, or ideas, especially through sharing vocally or in writing, art, music, dance or any means of communication is very essential to attain inner peace. As rightly said by Sigmund Freud, "Unexpressed emotions will never die. They are buried alive and will come forth later in uglier ways." Revealing your emotions and sharing it with your near and dear ones enhance the idea of ageing gracefully. In senior citizens there is often an empty nest syndrome which fills them with a feeling of grief and loneliness, as their children get busy with their families and life. We often forget that besides physical needs, they also long for love and emotional support from their family or friends.
Keeping the importance of self- expression in mind, we conducted an activity with the members at our Senior Activity Center. It was a simple activity called 'Journey of Life' and it made our senior members experience and release multiple emotions, and gave them an opportunity to take a stroll down memory lane. It was a fun as well as an overwhelming moment for all of us. Through the activity we got to know their life experiences as they unearthed the stories that were buried in their heart. It helped the members to know each other well. At the center we focused more on the positive and happy memories to encourage our members to look back on their life experiences and let them feel their life more meaningful. Through the activity we tried to re-establish life meaning for the seniors through connection to the past, and reassert the importance of each of them. The activity was a form of a reminiscence therapy which was intended to increase the self-worth and a sense of their belonging in a much happier world.
You can try the activity at home with your loved ones and help them to take some nice flashback of life. You can conduct the activity in your own creative way. We are sharing the steps which we followed at the centre while conducting it.
To make the activity fun and interesting, we made our personalized journals and let the members decorate it in their own style. You can paste pictures of family, friends, parties, travel destinations, food, quotations, or any random clicks. Then on each page, just write one headings to guide them to sort out of large reservoir of memories. We gave them topics as following:
Introducing Myself (In this the seniors will describe themselves briefly)
Best thing about me
Most memorable day of my life
One thing I am proud of
What makes me happy ( hobbies)
My achievements
I love my life because
My best companions in the journey of

 

life
I am proud of
My bucket list of wishes
You can choose your headings according to the taste of the elderly. The purpose behind making them write was to motivate them to bring out the emotions and also they can keep the journal as a small autobiography of themselves and they can just flip it every day to take a look and feel positive and happy. It was a choice given to them whether they want to share it with others or want to keep it personal. Most of the seniors volunteered to share. Hope you enjoy this activity with your elderly loved one!