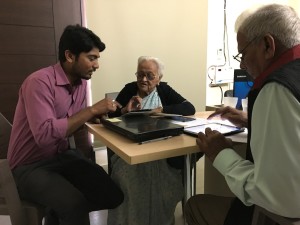 Technology has become an essential part of our lives. We have become dependent on various gadgets to make our life easier. This was not always the case, earlier people were more dependent on each other to complete tasks. One important gadget which has taken an important role in our life is our "smartphone", be it for calling, chatting, shopping, monetary transactions or any other thing – our smartphone manages all.
But often the elderly are not so technology friendly, and so they avoid using technical gadgets like smartphones, iPad and computers, or use them in a limited way. Sometimes it also becomes difficult to explain to them the importance and benefits of new technology. However, smartphones are finding acceptance across all age groups from an 8 year old to 80 years old.
The distinguished feature which makes a smart phone different from a basic phone is "applications". Such applications can be for booking services such as movie tickets and cabs, navigation, entertainment, knowledge enhancement, social networking, health updates etc.
As a Senior Counselor at Samvedna I have had the privilege of teaching many senior citizens the usage of smart phones. Sometimes it is a challenge to explain features and benefits of apps like WhatsApp or Facebook, and the questions can be repetitive. However it is very satisfying to see the pure joy on their faces when they connect with their friends and family through one of these apps. Stories, anecdotes, old memories fill in the discussion and I often realize how much there is to learn from them.
Here are some reasons why seniors love their smartphones :
1) A larger screen
Having weak eye sight becomes a hindrance for seniors for using old phones as they have small keys. On the contrary, smartphones tend to have larger screens which makes it easier to view and use for senior. Moreover, users can easily adjust the text to a larger font and use their fingers to zoom in on websites and photos.
2) Easy communication
Smart phones are a great communication platform for senior. They can be used in various ways to connect with their loved ones like voice calling, video calling, social networking, text messages, emails and many more. In these times when we are challenged by distances and time they can easily connect with their friends, children and grandchildren to get family updates.
3) Voice capabilities
Texting can be difficult for arthritic fingers. Many elderly have large and sometimes callused hands that can makes it difficult to use a touch screen. This is where talk-to-text and voice commands come in handy. They can also dictate full text message responses and have the phone read them texts aloud.
4) Social networking
Social networks give people a chance to connect with family, friends and acquaintances across the globe. By sharing pictures and messages on social media like Facebook and Twitter, seniors can stay up to date with their near and dear ones and also find fun engagement.
5) Internet banking/ e-wallets/ Online bookings
Internet banking reduces our need of visiting banks and makes our work easy by avoiding waiting in long queues. Its usage can be really helpful for seniors as they can do a lot of their work from home. Through smartphones seniors can access online banking and make bookings payments just by the touch of a finger. I remember once I helped an elderly book tickets for a movie on her phone, and she was delighted that she did not have to travel to book the tickets!
6) Navigation/ Google maps
For those over 60 who are ready to use the time they have to travel, a smartphone can be a great boon! Seniors can hit the road and travel without any hassle of getting directions with the help of apps like Google Maps. Also booking your cabs or autos online is convenient, especially for seniors who live independently.
7) Music/ videos
Retro music, poetry, and patriotic and sufi songs are common interest areas of seniors. They can easily access their favourite music on their smart phone. Apps like youtube and other can be a source of entertainment.
8) Managing medications
There are many apps available to help seniors manage their medication by sending them alert reminders. Others allow the user to communicate with his or her doctor to schedule appointments or ask questions about prescriptions. Moreover, smartphones also have an emergency mode which allows seniors to store medical and personal information, that can be accessed by all.
---
Great Times by Samvedna is our social and recreational club in Sector 57, Gurgaon, for members 55 years and above. Its a place where members come to get fit, meet like minded people and share their life experiences and give back to the community.
Activities at the club include fitness exercises, group meditation, mind stimulation, tambola, dancing, book reviews, movies, community outreach, and talks on health management. The club has a library, computer room, visits by physiotherapists and doctors, access to board games and cards, a fully functional pantry with healthy and affordable snacks and tea and coffee on the house.
There are special discounts for group memberships. The club is open Monday-Friday, 11am to 5pm. There are special classes for yoga, smart phones, computers, spoken english, dance, music and painting. We also have Bridge mornings every Tuesday and Thursday. Call Great Times Club at 9818421446, 0124-4229659.
Know more here – Great Times Club