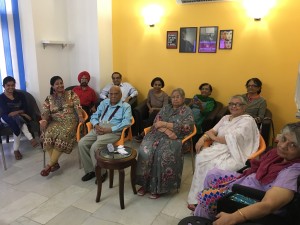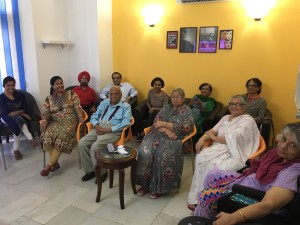 At Samvedna, we celebrated the start of the new fiscal year with a workshop on Happiness. We started by sharing what happiness means to everyone. Everyone gave their own answers that were all unique and wonderful! However, the happiness researcher Sonja Lyubomirsky defines it as:
The experience of joy, contentment, or positive well-being, combined with a sense that one's life is good, meaningful, and worthwhile.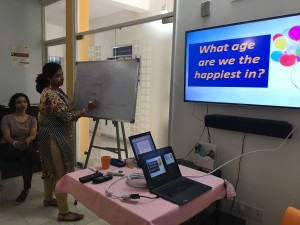 So why discuss happiness? Why is it so important? Apart from the more obvious answer-that it feels good, studies also reveal that happy people live longer, and many studies link happiness to better health. Many findings show that happier people bounce back faster from negative life events.
After discussing what happiness is, we moved on to how it is different from well-being. For this we did a thought experiment. We asked a thought provoking question:
If you could be plugged into a pleasure machine, one that hooked up into the pleasure centres in the brain and gave you constant bliss, would you spend your life in that machine?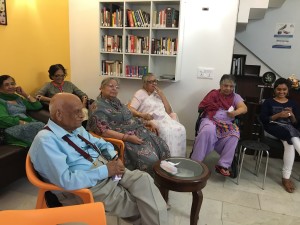 This thought experiment, developed by Robert Nozick, gave us the same answer as it gave him—no—that they would not spend their lives hooked up to a pleasure machine. Well-being is not just about being happy all the time, it includes being happy, along with finding engagement and a purpose in life.
We then moved on to discuss how age affects happiness. Are we happier when we're younger or when we're older?  Most people answered that childhood is the happiest time, or that if one as healthy then they were happy. It's true that we are happy in childhood, and our happiness levels drop as we get into adulthood, but they take a surprising turn and increase as we grow older into our 50s and 60s.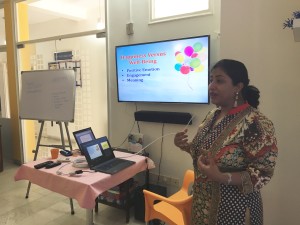 Many came with the question 'Why are some people happier than others? Is it fate? Or is it genetics, or circumstances'. Some answered that it was circumstances, others answered that it was our approach, and other even said it was genetics. We discussed the findings that reveal that happiness is dependent 50% on our genetics and only 10% on our circumstances. The rest 40% is our thoughts, habits, and actions—all things that we can control and increase our happiness levels.
The million dollar question—how can we increase our happiness levels? Here are some things we discussed:
1) The joy of giving: One noble way to be happy is to spread happiness. Giving to others is a way we can make ourselves happier and more content.
2) Gratitude: thanking people for what they've done for us. We conducted a gratitude activity in which everyone shared who they are all thankful to.
3) Acceptance: To be happy, we must accept ourselves for who we are and our circumstances as well.
4) Letting Go: Along with that, being in the present and letting go of past troubles and negative experiences goes a long way in helping us be happy. One participant stated correctly "One key to happiness is to have a bad memory".
5) Mindfulness: It's a technique that helps us enjoy and cherish the present. Practicing mindfulness is bringing our complete attention to the present moment.
6) Positive Thinking: Ensuring we do not let negative interpretation affect how we feel about life is as important as noticing the positive and enjoying them.
7) Exercise: It's not just good for our body but it's also good for our mind.
8) Humour: Laughing at a situation to make it lighter and joking about negative and difficult situations can help us use humour to remove the stress of the situation.
To end the workshop on a fun-filled note, we engaged in a role-play. All participants were given a negative situation which they had to role-play using a joke to laugh at the situation. This activity demonstrated to all of us that even in adversity, we can choose to use humour to cheer up ourselves and others.
---
Great Times by Samvedna is our social and recreational club in Sector 57, Gurgaon, for members 55 years and above. Its a place where members come to get fit, meet like minded people and share their life experiences and give back to the community.
Activities at the club include fitness exercises, group meditation, mind stimulation, tambola, dancing, book reviews, movies, community outreach, and talks on health management. The club has a library, computer room, visits by physiotherapists and doctors, access to board games and cards, a fully functional pantry with healthy and affordable snacks and tea and coffee on the house.
There are special discounts for group memberships. The club is open Monday-Friday, 11am to 5pm. There are special classes for yoga, smart phones, computers, spoken english, dance, music and painting. We also have Bridge mornings every Tuesday and Thursday. Call Great Times Club at 9818421446, 0124-4229659.