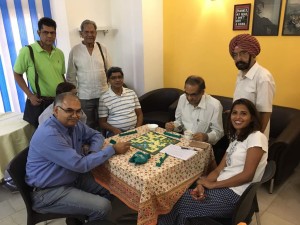 Board games entertain and bring people together through cooperative and competitive game play. The best thing about board games is that, they are ageless. Everybody from 5 years of age to 95 years of age can enjoy and appreciate them.
In addition, every time seniors play a card or a board game or even computer game, they are staying sharp – stimulating their brains and fighting off the onset of dementia or any other cognitive disorders. This conclusion comes from a recent study stating that seniors who take part in mentally demanding leisure activities lowered their risk of developing Alzheimer's disease and other cognitive disorders by as much as 75 percent. Seniors fitness is not just for the body. Seniors need to exercise their brains on a regular basis as they grow older. They should set aside sometime every day for this area of exercise, or brain games.
Playing games not only provides entertainment and quality companionship, it also helps in improving sharpness of mind and quality of life of seniors. In fact these games affect both wellbeing and improvement at any age. Alertness, creativity, mindfulness, reminiscing, cooperative behavior, lower risk of cognitive disorders etc, are some of the benefits of playing board games. So, go on and buy your parent a board game and have a lovely time!
Here are some of the board games that you can gift your parent –
1) Scrabble – It is a word game, where the players have to make words using the letters given to them. Some of the key benefits of Scrabble are:
* A unique skill developed from playing scrabble is known as 'anagramming' or 'framing words or expressions by adjusting its letters'
* There are some mathematical benefits such as exercising the ability to add
* Include strategy and spelling skills
* It has positive effects on cognitive abilities
* It also helps to encourage communication, competitiveness, and confidence among friends, family etc
2) Jenga – Jenga is a wooden block stacking game promoting physical skills. Some of the cognitive benefits of this game are:
* Fine motor dexterity, coordination in muscles
*  Motor planning
* It also Improves Non-Verbal reasoning
3) Qwirkle – Qwirkle is a tile-based game for 2 to 4 players. It imparts a few attributes to the recreations Rummikub and Scrabble. It helps in promoting strategic moves and arranged practices.
4) Bingo – Bingo is a fun game of chance that anyone can play. This game is played on a scorecard that is made of 5 squares across and 5 squares down. Some of the key benefits of Bingo are stated below:
* It improves hand–eye coordination. Reflexes and coordination decline normally as one ages, however certain games and activities can enable seniors to keep up a high level of hand – eye coordination
* It helps in improving cognitive abilities
* Improves physical health
* It also provides and opportunity for socialization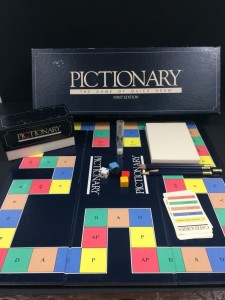 5) Pictionary – Pictionary is a charades-inspired guessing word game. It stimulates the creative, innovative and analytical centers of the brain as players create basic drawings designed to provide a single word.
6) Dominos – Dominoes are a group of games played with rectangular "domino" tiles. Following are the benefits of this game:
* It helps the person to efficiently work with other people playing the game
*  It helps to develop their speaking and listening as well as thinking skills
* And it also works on their fine and gross motor development
7) Chinese Checkers – Chinese checkers is a strategy board game of German origin which can be played by two, three, four, or six people, playing individually or with partner. Key benefits are:
* It helps in boosting fine motor skills for arthritis seniors
* Teaches strategic thinking and analytical ability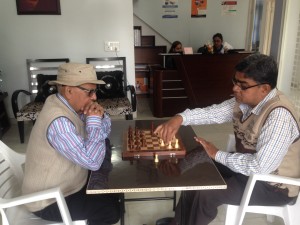 8) Chess – Chess is one of the best board games to exercise the most important part of our bodies: the brain. Chess has a lot of health benefits too, such as:
* It improves brain growth – A German Study marked that when Chess players were asked to identify chess positions and shapes, both left and right hemispheres of the brain became active.
* Helps prevent Alzheimer's: As we age, it becomes very important to give the brain a workout, in order to keep it healthy and fit. A recent study featured in The New England Journal of Medicine found that people over 75 who engage in brain-games like chess are less likely to develop dementia than non-board-game-playing people.
Board games are fun, and they're a great way to spend some quality time with loved ones. At the same time, board games can enhance our thinking and other fundamental abilities.
---
We at Samvedna Senior Care aim to help seniors live happy, active and independent lives, in the comfort of their home and community through interactive caregiving.
Samvedna Senior Care was established in October 2013 with two complementary goals – firstly to provide quality home care services to seniors with limited mobility or dementia and hence social interaction, and secondly to facilitate stimulating community interaction and participation. All our senior care specialists are psychologists or gerontologists.
Here are some of our services –
General Wellbeing:
With our General Well Being
Services we aim to raise the quality of life of seniors, specially those who may have limited mobility and social interaction due to various constraints. Our interactive programme keeps them active and engaged through physical, mental and social activities, all in the comfort of their home.
More – Elder Care
Great Times Club, which is a part of the Samvedna Senior Care Foundation, is our social and recreational club in Sector 57, Gurgaon, for members 55 years and above.Its a place where members come to get fit, meet like minded people and share their life experiences and give back to the community.
Activities at the club include fitness exercises, group meditation, mind stimulation, tambola, dancing, book reviews, movies, community outreach, and talks on health management. The club has a library, computer room, visits by physiotherapists and doctors, access to board games and cards, a fully functional pantry with healthy and affordable snacks and tea and coffee on the house.
There are special discounts for group memberships. The club is open Monday-Friday, 11am to 2pm.There are special classes for yoga, smart phones, computers, spoken english, dance, music and painting. We also have Bridge mornings every Tuesday and Thursday. Call Great Times Club at 9818421446, 0124-4229659.