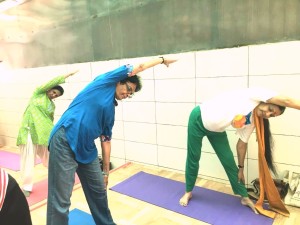 The active aging concept is defined as the process of optimizing opportunities for health, participation and security in order to enhance quality of life as people age. It also allows the individual to understand the need to adopt a healthy lifestyle so as to age in a way that they are capable of preventing physical, mental and social disabilities.
As people grow old they believe that exercise isn't for them. With ageing their need for physical engagement goes and their lifestyle becomes more sedentary. Incorporating exercises like brisk walking, strength training, swimming, stretching, cycling, jogging and yoga in daily routine is an important aspect of living a healthy lifestyle.
A good exercise and yoga routine helps to maintain a healthy body and mind, thereby promoting healthy ageing.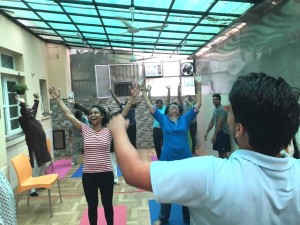 As a form of exercise, yoga in fact is good for adults of all ages, especially seniors. It is the union of body mind and breath. Simple yoga poses can help seniors keep the system in balance.
Studies have shown that yoga can be extremely helpful when it comes to combating stress, fatigue and pain. Some yoga postures increase core strength and balance, which reduces the risk of fall-related injuries.
Yoga can help slow down the effects of the ageing process by maintaining muscle softness and flexibility, keeping the mind alert and awake, encouraging relaxation and strengthening muscles and joints. Its multi-pronged approach can encourage the body, mind and spirit to remain healthy and strong while reducing the effects of many age-related issues.
Practicing yoga asanas help the elderly age with grace. Few of the asanas which are very helpful for all ages are:
Tadasana (Mountain Pose): It works perfectly for the hunching elderly by improving their posture. It strengthens their weak thighs and ankles, making it easier for them to move.
Baddha Konasana (Butterfly Pose): It enhances the individual to bring ones out of mild depression and relieve fatigue and anxiety.
Balasana (Child Pose): It makes the internal organs supple, facilitating healthy bodily functions. It aids in building deep and steady breathing that calms the older people and helps them lead an anxiety-free life.
Bhujangasana (Cobra Pose): It loosens the stiffened lower back of the old and stretches their muscles in the shoulders, chest, and abdominals to keep them flexible and healthy.
Adho Mukha Svanasana (Downward Facing Dog Pose):

 

It allows more blood to flow into the brain, brightening it up with cognition, making the older person's mind sharper and less prone to forgetfulness.
Trikonasana (Triangle Pose): It strengthens and stretches the arms and legs, which helps the elderly do their chores better and also reduces motor imbalance.
Shavasana (Corpse Pose): It improves concentration and also sleep disorders. This asana is helpful for curing those who have diabetes, weak mental health, and constipation.
Elderly who often struggle with pain, joint stress, imbalance, osteoarthritis and other physical limitations, can benefit from incorporating a yoga practice into their daily routine.
Some benefits of yoga exercises are:
Yoga encourages overall health and wellness.
People who exercise tend to have improved immune and digestive functioning, better blood pressure and bone density, and a lower risk of Alzheimer's disease, diabetes, obesity, heart disease, osteoporosis, and certain cancers.
It helps in reducing the effect of stress and hypertension and even reduces the amount of medication needed.
It helps in strengthening of bones and reducing risk for osteoporosis and slows bone thinning.
It enhances concentration, determination and attention span.
It has beneficial effects on brain functioning and also boosts one's mood.
It helps in digestion and increases blood circulation, even reduces problems with eating and acidity.
Practicing yoga and mindfulness meditation not only keeps your body and mind healthy, it also keeps you more connected to the environment and the world around you.
---
We at Samvedna Care aim to help seniors live happy, active and independent lives, in the comfort of their home and community through interactive caregiving.
Samvedna Care was established in October 2013 with two complementary goals – firstly to provide quality home care services to seniors with limited mobility or dementia and hence social interaction, and secondly to facilitate stimulating community interaction and participation. All our senior care specialists are psychologists or gerontologists.
Here are some of our services –
General Wellbeing:
With our General Well Being Services we aim to raise the quality of life of seniors, specially those who may have limited mobility and social interaction due to various constraints. Our interactive programme keeps them active and engaged through physical, mental and social activities, all in the comfort of their home.
More – Elder Care
Great Times by Samvedna is our social and recreational club in Sector 57, Gurgaon, for members 55 years and above. Its a place where members come to get fit, meet like minded people and share their life experiences and give back to the community.
Activities at the club include fitness exercises, group meditation, mind stimulation, tambola, dancing, book reviews, movies, community outreach, and talks on health management. The club has a library, computer room, visits by physiotherapists and doctors, access to board games and cards, a fully functional pantry with healthy and affordable snacks and tea and coffee on the house.
There are special discounts for group memberships. The club is open Monday-Friday, 11am to 2pm.There are special classes for yoga, smart phones, computers, spoken english, dance, music and painting. We also have Bridge mornings every Tuesday and Thursday. Call Great Times Club at 9818421446, 0124-4229659.