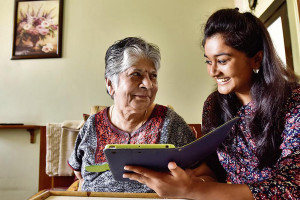 Who does not love their home sweet home and especially if you ask an elderly, they have spent a good number of years there and are habituated to it, the environment, the familiarity, etc. The freedom and dignity that comes from staying in your own home, the ability to make your own decisions, the maintenance of friendships and community ties are a few reasons behind why it is a good idea to stay at your own home while you grow old.
It does not necessarily mean staying alone, aging in place is a term used to describe a person living in the residence of their choice, for as long as they are able as they age. This includes being able to have any services (or other support) they might need over time as their needs change.
But as good an idea as it is, there are some important things that need to be considered while planning to let your loved ones age in place.
1) Structural Modification
Your loved one is not as young and active as before, so the house in which they are living needs to be simple and clutter free. It should be of moderate size so that maintenance is easy. Some changes are also needed to make the home simpler and more comfortable. It starts with recognizing when and where common needs or hazards may arise in key areas like the kitchen, bedroom and bathroom. Some common and basic changes include: Installing bathroom rails to help support them when they walk through the house and avoid unexpected slips and falls, put a chair in between if the bathroom is far away from the bed, removing the latches of bathroom and bedroom, lowering shelves in the pantry so they can easily access items, adding more light and removing floor hazards.
2) Accessibility
Driving can be a challenging activity for an elderly parent, which means basic needs like groceries, bills payments and medicine refills need to be delivered to the door. If the seniors are techno-savvy then they can order their required things online, but if not then its important to think of alternatives.
3) Emergency Situation
There should be an established list of contacts or channels that can be used in cases of an emergency. Contact details of relatives, hospitals, senior helpline, police station, NGO's etc. can be put on the mirror, fridge or any other object which is easily accessible or visible to seniors. Your elderly should have the assurance and reliability that there is someone who can be approached when they need it.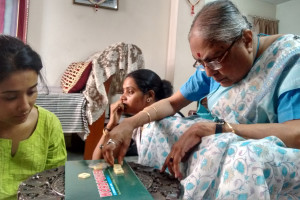 4) Socialization
Since the mobility of seniors gets impacted by age, they prefer to stay at home and avoid interaction with the outside world, which can push them into isolation, further leading them to depression. So one important thing to consider while planning to age in place is to make them socially active and engaged.
5) Trained Attendants
Since our senior loved ones are not as healthy as they were in young age, some may become weak, and so they may need someone who can help with their day routine tasks like cooking, purchasing groceries, medicines, assistance in walking, bathing etc. Such day to day needs can be catered to by a trained attendant. One must keep in mind that they may need to get an attendant in case of ageing in place.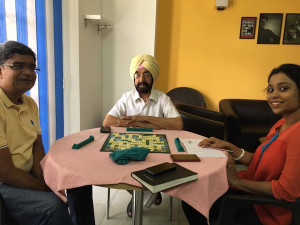 6) Meaningful Engagement
More than 60% of the seniors step into depression within 5 years of their retirements. The reason being the sense of being unoccupied or unworthy or unproductive. We must consider that our loved ones need to be engaged meaningfully if aging in place. Mind stimulation games, entertainment other than T.V, indoor games, and many other could be means of engagement.
7) Medication Management
One common problem that arises with the seniors living alone is the negligence over regular hospital visits. Since they are old and weak they avoid going for their hospital visits and follow ups regularly. This too needs to be taken care of. Likewise for timeliness in taking their medicines. We can organize a pill box that can be refilled on weekly basis, further it will help to monitor their medicine consumption.
---
We at Samvedna Care aim to help seniors live happy, active and independent lives, in the comfort of their home and community through interactive caregiving.
Samvedna Care was established in October 2013 with two complementary goals – firstly to provide quality home care services to seniors with limited mobility or dementia and hence social interaction, and secondly to facilitate stimulating community interaction and participation.
Emergency and Respite Care:
Our emergency support service is for times when an elderly needs assistance in a hurry. In case of an emergency like a fall, sudden illness or unplanned travel, we are one phone call away, ready to step into action and deal with things. The services include ambulance assistance, an on-call helpline (8am-8pm), hospitalization support and more.
Respite care services give caregivers an opportunity to leave home for a few hours for errands, appointments or simply to unwind, with the peace of mind that comes with knowing their loved ones are in capable hands.
More – https://www.samvednacare.com/emergency-respite-care
General Wellbeing:
With our General Well Being Services we aim to raise the quality of life of seniors, specially those who may have limited mobility and social interaction due to various constraints. Our interactive programme keeps them active and engaged through physical, mental and social activities, all in the comfort of their home.