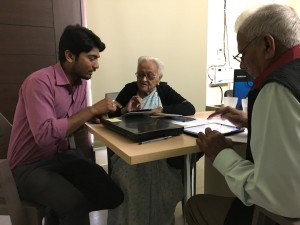 Human brain is complex, yet beautiful in the way it performs and executes so many distinctive functions that are crucial to our daily living. Right from helping in our routine work to as simple as picking up an object placed at a distance.  The advancement in technologies and development in neuroscience has enabled the scientists, practitioners, students and general population in understanding a complex set of pattern and activities involved in making sure everything functions smoothly.
'Cognition' in simple terms refers to the mental processes involved in gaining knowledge and comprehension. It's one of the crucial functions performed by the brain. The cognitive processes involved in animals are lot simpler, while in humans it is intricate and complex.
Receding cognitive abilities is something very central to dementia. It is the lapses and loop holes in the various cognitive faculties are first glaring red flags that anyone first notices. This makes it imperative for the primary care givers to understand what cognition is all about. If we were to look at the grass root level, much of cognition begins at an earlier stage of life.
Many assume the word 'cognition' equates with 'memory', while in reality memory is just one part of this extensive cognitive network. Other important aspects of the same are:-
Decision making, reasoning and problem solving: Chief components involved in tackling any problem: the ability to reason out, understand and solve any given situation e.g.: family matters, office work, handling finances etc.
Memory: It may involve different aspects like recalling something that happened quite recently (short term memory) to events dated long back, general facts and figures.
Judgement: e.g.: Deciding on wearing clothes appropriate to the weather.
Attention and concentration: Required for performing almost every other activity e.g.: driving, cooking, reading, doing paper work etc.
Orientation: Being aware of the time, place and person.
Spatial awareness: An organized knowledge of objects in relation to oneself in a given space an organized awareness of the objects in the space around us, and also an awareness of our body's position in space which helps us in activities like crossing roads, searching objects in a dark room, reading books as we won't be able to read it in correct sequence and relation etc.
Thinking: While having brain storming sessions or group discussions, various forms of thinking come into play that helps to express and also assimilate the information.
Not all actions are based on a conscious or reflexive cognitive process. Many of them can be automatic (e.g. taking off hand from a hot vessel) or learnt over time (e.g. preparing tea/coffee). While we now have a clear understanding on what 'cognition' is all about it is also important to note that none of the tasks or functions performed by the brain is independent of one another. Nothing serves in isolation. All the domains of one's life: Cognitive, Behavioural, Psychological, Emotional are interlinked, having some influence on the other. When our memory starts to fade the cornerstone of cognition is eroded and dementia is the result.
To test our cognition, let's take a short quiz:
What is the year? Season? Date? Day? Month?"
What is the difference between a ruler and a watch
When did you complete your class 10th?
If you found a stamped, addressed envelope on the street, what would you do with it?
What was the last meal you had?
If you give the cashier Rs 100 for a box worth Rs 77, how much should the cashier return?
Spell 'WORLD' backwards
On a sheet of paper, draw a clock and mark the time: 10 past 11
Written by Dr. Satish Chawla MD, FACP, AIIMS, who is a retired Geriatric Physician from the United States Navy. He is an expert in geriatric medicine, and on Samvedna's panel of experts.
---
We at Samvedna Care aim to help seniors live happy, active and independent lives, in the comfort of their home and community through interactive caregiving.
Samvedna Care was established in October 2013 with two complementary goals – firstly to provide quality home care services to seniors with limited mobility or dementia and hence social interaction, and secondly to facilitate stimulating community interaction and participation.
Cognitive Wellness Programme, Sector 57  Gurgaon  –
Samvedna's Cognitive Wellness Programme is designed for seniors with mild cognitive impairment, early dementia or Parkinson's, and elderly lacking in enthusiasm and motivation. The aim is to stimulate the mind of the elderly to slow the progression of the disease or impairment. The sessions are 3 days a week, 11AM-1PM.
More – http://www.samvednacare.org/our-work/cognitive-wellness-programme
Our Dementia Care services are –

At-home services –
Dementia intervention activities by trained Care Specialists (already mentioned above). These services are available in Delhi NCR and Guwahati
More – https://www.samvednacare.com/service/dementia-care
Please call us for more info – Delhi NCR – 98184 21446, 124 4229659 | Guwahati – 9864015872
Dementia Support Group –
Our Dementia Support group in Delhi NCR and Guwahati is a platform for caregivers to share feelings and support each other.
More – https://www.samvednacare.com/dementia-support-group
Please call us for more info – Delhi NCR – 98184 21446, 124 4229659 | Guwahati – 9864015872