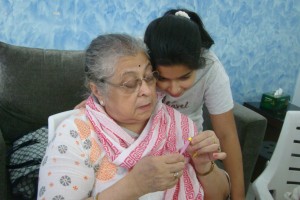 Illness of any kind always has an impact on family members. This specially holds true for dementia.  The effects it has on the children and spouse of the person affected is often discussed and researched about. However, there's always a ripple effect that is not limited to the immediate family members. It also passes on to the tiny tots of the family: the grandchildren.
Grandparents and grandchildren share a very special equation. No one quite spoils a grandkid like a grandparent. For them they are angels of god. They look forward to enjoying and revisiting their childhood with them.
The dynamics of this bond however change when the grandparent under goes life altering condition like dementia.  As we all know, there will be a range of behaviors demonstrated by our loved ones with dementia: wandering, agitation, repetition and verbal/physical aggression. Seeing beloved grandparents in such a state can be very difficult experience for children of any age: specially from 6 to 16. While, as adults we may reason and understand the difficulties stemming from the condition, it can be viewed very differently by children. Without any proper understanding or clarification about the condition, along with seeing the parents stressed tending to care giving, children may come up with their own conclusions and respond accordingly. Some of the most common responses include:
Crying and feeling sad: why is grand ma/pa behaving like this with me?
Avoid elders: withdraw communication or meeting them
React: Snap back or shout
As Care Specialists, we understand that each person with dementia is different and unique. Similarly, the families that they belong to are all different from one another and have varied dynamics. I would here like to share some of the instances that I have seen happening:
A grandchild (aged: 8 years) refuses to cross path or meet her grandmother suffering from Alzheimer's Dementia, who once raised her hand at her. Since then she gets scared and runs away whenever she sees her.
Siblings (aged: 5 & 3 years) have different views on their grandmother having Vascular Dementia. While the elder one constantly asks questions about her wandering and physical hygiene issues, the younger one though is friendly with her grandma, gets scared when she shouts at her.
Seeing her grandfather's deteriorating condition, grandchild (aged 13 years) has limited his conversation with him. He exchanges pleasantries, but seems too formal with him, avoiding whenever he can.
After knowing her grandmother's diagnosis (Initial Stage Dementia), grandchild (aged 15 years) makes it point to spend at least half an hour with her grandma every day, engaging in their favorite hobbies: reading and listening old music.
Being exposed to such changes in the family at an early phase of life may hold strong consequences like: shaping the way they see the world and their coping mechanisms. However, keeping certain tips in mind may help us to reach out to the younger ones in a better way.
Important tips:
Do not brush off the issues being experienced by the grandparent as something that is a part of normal aging to your children.
Gauge your child's level of understanding and provide details accordingly, as child may not be able to comprehend much information at once.
Also since a young child's attention span tends to be relatively small, talk to them in crisp and concise manner.
Have timely conversations with your child about what they think and feel about their grandparents: give them a platform to freely express themselves. This would help in:

Understanding their fears and doubts
Planning out on what and how things need to workout

Try to come up with creative solutions. This can be attained when the child is of a certain age. Together the parent and child can come up with different ways to handle problem behavior.
Allow the child to build the relationship with their grandparent. Avoiding or reacting only complicates the situation. A grandparent at this phase only seeks unconditional love and support from their near and dear ones.
---
We at Samvedna Care aim to help seniors live happy, active and independent lives, in the comfort of their home and community through interactive caregiving.
Samvedna Care was established in October 2013 with two complementary goals – firstly to provide quality home care services to seniors with limited mobility or dementia and hence social interaction, and secondly to facilitate stimulating community interaction and participation.
Cognitive Wellness Programme, Sector 57  Gurgaon  –
Samvedna's Cognitive Wellness Programme is designed for seniors with mild cognitive impairment, early dementia or Parkinson's, and elderly lacking in enthusiasm and motivation. The aim is to stimulate the mind of the elderly to slow the progression of the disease or impairment. The sessions are 3 days a week, 11AM-1PM.
More – http://www.samvednacare.org/our-work/cognitive-wellness-programme
Our Dementia Care services are –

At-home services –
Dementia intervention activities by trained Care Specialists (already mentioned above). These services are available in Delhi NCR and Guwahati
More – https://www.samvednacare.com/service/dementia-care
Please call us for more info – Delhi NCR – 98184 21446, 124 4229659 | Guwahati – 9864015872
Dementia Support Group –
Our Dementia Support group in Delhi NCR and Guwahati is a platform for caregivers to share feelings and support each other.
More – https://www.samvednacare.com/dementia-support-group
Please call us for more info – Delhi NCR – 98184 21446, 124 4229659 | Guwahati – 9864015872