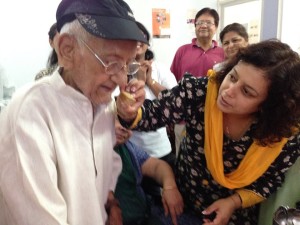 Everyone experiences loneliness at times, but it is especially difficult for ageing loved ones. Older people are more vulnerable to loneliness and social isolation. Most elders prefer to remain in their own homes as they age. Loneliness can lead to depression, and with that comes ill health, according to Professor Ian Philip, an advisor to the World Health Organization and an expert on healthy ageing.
For older people, depression brought on by loneliness can lead to a worrying lack of interest in looking after themselves. Not eating can eventually lead to malnutrition. One only notices how much our parents are drinking; eating or exercising when we're present, so we don't necessarily know how much loneliness is affecting them.
Telling aging parents that they need to eat more or cheer up is challenging the symptoms rather than the causes. For the elderly to stay fit and contended, one has to address the issue of loneliness before it becomes a real problem.
But the real question arises how to do that, how to help your elderly parents deal with loneliness. Some of the tips to help your elderly parent deal with loneliness are given below:
1) Help them engage in activities – Retirement brings in free time for the elderly and they may not know how to keep themselves busy which in turn may make them overthink about their past, present and what the future holds for them. Elderly should be encouraged to keep themselves occupied and engaged in healthy and interesting activities. They could be enrolled in some special classes or clubs, encouraged them to volunteer etc.
2) Maintain communication with them – Children should make an extra effort to maintain communication with their elderly parents so that the feeling of loneliness doesn't set in. At this age there is a role reversal between parents and children. Parents need constant communication to feel they are still an important part of their children's life and not neglected.
3) Help them in maintaining a routine – Routine helps in balancing life and doing things that are necessary. Helping an elderly parent maintain a routine is very important. It helps them in doing things that are necessary and important for them, for example going for walks, eating their meals on time, bathing, etc.
4) Encourage them to go out and socialize – One of the risk factors that come with loneliness is social isolation. One should always encourage elderly parents to go out, meet people and socialize.
5) Seeking professional help – Hiring the services of a geriatric care specialist for the well being of elderly parents can be an option for distant caregivers. These professionals are often nurses or social workers, experienced in matching the elder's needs to community resources for improved socialization.  They can find suitable activities, work out the logistics and accompany the elderly in your place if you are far away.
6) Use of technology – Elderly should be motivated to learn and use technology, as it will keep them updated with the changing time, helps to maintain connections with family and friends. Even an aging parent who has never touched a computer before can learn if willing.
Its important for us as caregivers to understand that it is not so easy for the elderly to reach out and do things we ourselves do if we want to.  If we take the time to help, they'll be happier and safer, too.
---
Samvedna Care –
We at Samvedna Care aim to help seniors live happy, active and independent lives, in the comfort of their home and community through interactive caregiving.
Samvedna was established in October 2013 with two complementary goals – firstly to provide quality at-home care services to seniors with limited mobility and social interaction, and secondly to facilitate stimulating community interaction and participation.
Our At-Home Care Services for General Wellbeing aim to raise the quality of life of seniors through a monthly interactive programme in the comfort of their home. Our senior care specialists, who are trained psychologists and gerontologists, keep them active and engaged through physical, mental and social activities. The activities include intellectual companionship, mind stimulation activities like puzzles and crosswords, playing games, dancing and singing, social outings for coffee or mall and more.
More – https://www.samvednacare.com/home-care-services/home-care-package/elder-care
Please call us for more info – 98184 21446, 124 4229659