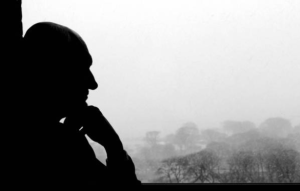 Depression in older adults is a very treatable disorder.  However, symptoms of depression in elderly are often over looked because they are  mistaken as normal part of ageing. The changes that come in later life like retirement, the death of loved ones, increased isolation, and medical problems can lead to depression. Here are 6 Warning signs of Depression to look out for in elderly:
1. Social withdrawal and isolation
Did you notice any changed behaviors in your elderly loved ones lately? Your elderly parents are shutting out others and avoiding social situations? Reluctance to be with friends, engages in activities, or hesitant to leave home. Don't neglect the sign; it can be a sign that your loved one is going into depression.
2. Increased pain
Physical complaints, such as joint pain, stomach ache or worsening headaches, are often the predominant symptom of depression among elderly.
3. Losing interest in hobbies or any pleasurable pastimes
When your elderly loved ones seem to be losing interest in former hobbies, past times and social activities suggests they are depressed. They start growing a sense of helplessness and hopelessness. They start believing that nothing can improve their situation
4. Loss of self-regard / self-worth
Significant signs of depression in elderly is seen when they seem less interested in self-appearance as they lose self-worth or self-regard. If you notice your mother has stopped caring about her clothes or your father has stopped taking bath, these could be signs of depression. Other signs can be skipping meals, forgetting medicines, neglecting personal hygiene etc.
5. Sleep disturbances
Sleep disturbances like difficulty in falling asleep or staying asleep, oversleeping, or daytime sleepiness can be signs that your loved one is depressed.
6. Irritability
Was your mother a content and happy person, and is now cranky and easily irritated by small things? Sudden mood changes can suggest depression.
Depression in elderly is common but the caregivers must remember that it is not a normal part of ageing. The older parents won't say they are sad or lonely as they don't want to be a burden on their family. However the caregivers should look for the above warning signs to make sure they are okay.