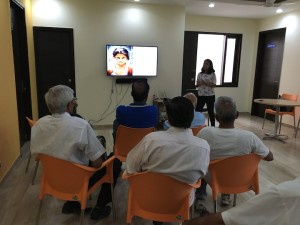 Last week we organized a Basic Photography Workshop for 55 years+ at Great Times Club. The workshop covered topics like what makes a good photograph, knowing your camera, subject selection, use of natural light vs flashlight, type of shots, angles and composition. The participants enthusiastically tried some of the techniques discussed, and also asked lots of questions about what makes a good photograph and which camera is suitable for beginners.
Most of the participants used their phone cameras, which these days are pretty good and give great pictures. It was a cheerful morning where participants bonded over photography!
Here are some takeaways from the workshop –
1) Subject selection – Personal photography is a great tool for self expression. Anything that evokes emotion in the photographer – happiness, surprise, anger, fear, sadness is likely to make a memorable photograph for her/him.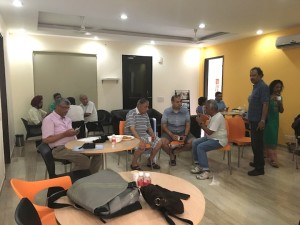 2) Natural vs flash light – While using a simple phone/ point and shoot camera, it is better to use natural light than the in-built flash whenever possible. This is because the camera flash has a limited range and also it results in a flatter image and detail loss.
3) Light angles – For depth and drama, try using side light. This can be done by using window light. Backlight can give beautiful and dramatic silhouettes.
4) Wide and medium shots and close-ups – While telling a story or capturing an event, try taking a variety of shots, including some wide shots to show the environment and area around the subject, medium shots are great to show group/ interactions and close-ups to show details.
5) Camera angles – Low angle shots make a subject look bigger, grander and more powerful. High angles do the opposite.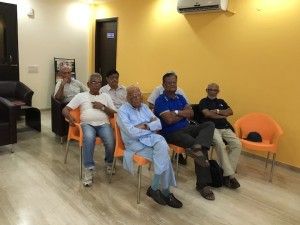 6) Composition – Using some simple techniques like using an arch to frame a shot, keeping the subject off-centre (rule of third) and lines and patterns in images, can enhance the aesthetic of an image.
Not only is photography a fun hobby to develop, it also helps seniors stay sharp according to a University of Texas study.  Seniors who learnt photography, which included learning how to use a new camera and new software, showed marked improvements in memory and cognitive ability after three months. Seniors, now is a good time to start!
————
Great Times by Samvedna is our new social and recreational club in Sector 43, Gurgaon, for members 55 years and above. Its a place where members come to get fit, make new friends and share their life experiences and give back to the community.
Activities at the club include fitness exercises, mind stimulation, tambola, dancing, book reviews, movies, community outreach, and talks on health management. The club has a library, computer room, visits by physiotherapists and doctors, access to board games and cards, a fully functional pantry with healthy and affordable snacks and tea and coffee on the house.
Transportation is available on select routes. There are special discounts for group memberships. The club is open Monday-Friday, 11am to 4pm. There are special classes for yoga, computers, spoken english, music and painting. We also have Bridge mornings every Tuesday and Thursday.
Call us for more info – 9818421446, 0124-4229659 | Address – Great Times, 1304 St. Thomas Marg, Sector 43 (Opp Shalom Hills School), Gurgaon