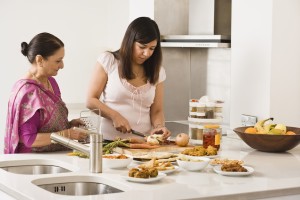 As children we try to do whatever we think will make our parents happy and give them a comfortable life. We end up focussing so much on what we think they need that we forget to ask what they want from us.
Lost and tired in our own work as children we think providing for our parent's needs is all they want from us. But we forget that they are not children, both of them are our parents. Sure usually elder people become like children but they had lived a complete life, cared for others, taken decisions, etc, which means their expectations and demands will vary and will be different.
Obviously as adult children of elderly parents we are stuck with the dilemmas of what to do and also how not to hurt their feelings. Not an easy task but surely an important one. Taking care of our parents and doing it the right way is important. But how to know what they expect from us?
Communication – By talking to them, giving them time and listening to what they have to say we can get a better idea of what they want. Sometimes it will be more of complaints and self pity but we should be patient and open when communicating with them.
Understanding and acceptance – Parents do not mean to hurt us or it's not like they are not thankful for all that we have been doing for them. But as children we should understand that whatever we are doing is what we understand is good for them. We must take their opinion and accept it without getting hurt or offended.
Every human is different. Often times what one desires the other does not even see fit. Our parents are also one among the same crowd, like us. There must be some expectations they have from their children, our work is to understand and fulfill them.
Some of the common things elderly parent want from their children are:
1) Respect – When people get old, they get sensitive and even the slightest of things hurt them. Same goes for your elderly parent. They have lived a full life, worked, earned respect, and fulfilled their responsibilities. So when they are old your elderly parents want you to not forget this and treat them with dignity and respect.
2) Your company – After retirement the elderly people do not find purpose and meaning in their day, most of the time they do not have routine. So most of them stay usually alone at home. Often times we hear them complain that no one spends time with them, they miss company, they have nothing to do, no one to talk to, etc.
3) Involvement – Your father was the one taking care of everything before he retired, your mother was so busy all her life looking after her family and now because they are old they have near to nothing to do during their day. They want their children to involve them in conversations, decisions or any other big and small thing. This also gives them a sense of importance that their decisions still have some value or they are still important. Also keeping their self esteem/self confidence up.
4) Financial independency – "But we pay for all their needs, what do they need money for? And it's not like they don't have anything." "Mummy ask me if you want anything, I will buy you". These are some of our common everyday replies to our parents when it comes to money. At this age, they do not like asking for money every time from their own children. Sure you pay for most of the things but your parents also need some financial freedom.
5) Engagement – Newspaper, gardening, pooja, walks, sleeping, watching T.V, usually these few things become your elderly parent's only source of entertainment and the only engagements they are left with. Unoccupied days give them sleepless nights. They have limited mobility and interaction. But you can help/encourage them learn a new hobby or join some class or take them out for dinners or do simple chores, anything that can keep them look forward to.
6) Learn how much is too much – Sure your parents are old and want your help and care but they are not kids. "Mummy why do you want to cook?" "Daddy you don't need to go to the market, the house help will do." "Obviously your mother does not have to cook or they should not keep so many magazines in that corner but if they are not harming in any way let them do it. We need to learn to not be doing too much.
Another problem, as our parents grow old we children starts analyzing their every action for prospect diseases and illnesses. "He is taking time to recall the day, is he possibly getting dementia" or "my mother's BP was 10 notches above the normal, should we go to a doctor?" Though they need your care and attention but you should not make them uncomfortable or conscious of their every step.
These were just some common things that the elderly parents miss and want from you or want their children to know. But again every person and their wants are different, put in some efforts and do the things according to your parent's desire.
---
We at Samvedna Care aim to help seniors live happy, active and independent lives, in the comfort of their home and community through interactive caregiving.
Samvedna Care was established in October 2013 with two complementary goals – firstly to provide quality home care services to seniors with limited mobility or dementia and hence social interaction, and secondly to facilitate stimulating community interaction and participation. All our senior care specialists are psychologists or gerontologists.
Here are some of our services –
General Wellbeing:
With our General Well Being
Services we aim to raise the quality of life of seniors, specially those who may have limited mobility and social interaction due to various constraints. Our interactive programme keeps them active and engaged through physical, mental and social activities, all in the comfort of their home.
More – https://www.samvednacare.com/home-care-services/home-care-package/elder-care
Great Times Club, which is a part of the Samvedna Care Foundation, is our social and recreational club in Sector 57, Gurgaon, for members 55 years and above.Its a place where members come to get fit, meet like minded people and share their life experiences and give back to the community.
Activities at the club include fitness exercises, group meditation, mind stimulation, tambola, dancing, book reviews, movies, community outreach, and talks on health management. The club has a library, computer room, visits by physiotherapists and doctors, access to board games and cards, a fully functional pantry with healthy and affordable snacks and tea and coffee on the house.
There are special discounts for group memberships. The club is open Monday-Friday, 11am to 2pm.There are special classes for yoga, smart phones, computers, spoken english, dance, music and painting. We also have Bridge mornings every Tuesday and Thursday. Call Great Times Club at 9818421446, 0124-4229659.
Know more here – Great Times Club