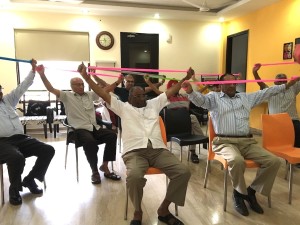 Physical exercise is an important part of a healthy lifestyle, contributing to general fitness, muscle control and coordination, and for a holistic sense of wellbeing. It is also essential for maintaining adequate blood flow to the brain. Exercise may stimulate brain cell growth and survival, which is required to slower down the pace of dementia.
Chemicals in our brain are also affected by physical exercises. Some hormones are discharged in the certain parts of brain which reduces our level of stress. Thus, fitness experts also believe that 20-30 mins workout 2-3 times a week can prevent mental decline as we age.
Here are some of the benefits of physical exercises in dementia:-
1) Prevents degeneration of brain cells – Exercise boosts the chemicals in the brain that support and prevent degeneration of the hippocampus, which stores memories and help us in learning new things. A newly introduced concept of brain gym also stated that brain cells can be stimulated by keeping oneself engaged physically.
2) Better sleep patterns and energy levels – Exercising regularly can help you maintain sound sleep. Constant body movement will burn a lot of calories from your body and make you feel tired; this will help a dementia patient to sleep in a better way, sidelining various sleep related issues.
3) Enhances balance, coordination and mobility – Stretching exercises, Tai-chi, Frankel and many others are a determined set of exercises that can help a senior maintaining his balance and mobility. Person suffering from dementia may have wandering issues. Continuous walk with improper balance may result the pacing into falls. Thus, a regular physical engagement may help them improve their balance.
4) Keeping your independence – Seniors are experienced population, who have lived their life, making their own decisions, brought up children and performed their daily routine tasks independently. They don't feel like losing that independence as they age. Physical exercise helps them remain mobile and improves their health so that they can freely walk to perform their day to day tasks. Moreover, in case of dementia, if they are mobile they can be open to different kinds of engagements which may help in delaying their progression.
5) Reduce feelings of isolation – Physical exercises can help seniors increase their confidence and esteem level. Good mobility an better voice modulation can encourage them to interact with the outside world. Being in touch with the outside world and being aware of their surroundings will lower the risk of feelings of isolation.

6) Helps in Stress management and Personal Coping styles – Physical exercise generates different kinds of chemicals in brain which help in reducing stress levels. Repetitive activity such as walking on a treadmill or using an exercise cycle can help reduce anxiety for people with dementia as there are no decisions to make or things to remember about what to do next. It can also be a good vent for frustration and the pent up energy.
Remember the purpose of exercising is to get towards a healthy and overall better life, not to get it adverse. While doing exercises or engaging your dementia patient in them, we need to avoid some of the following things-
Don't do over stimulation

– I

ndeed physical exercise is good for health but we must not over do them. Especially for the people with dementia, overstimulation may have negative impact on their health. They will be more tired than needed, or agitated if we make them exercise beyond their capacity.
Consult a specialist before exercise

– N

ot all the exercises are meant for all people, so we must plan the exercises considering the health and stamina. It is advisable to consult a doctor, physiotherapist or any expert before starting any exercise program.
Keep in mind your physical health

–

Seniors may have some health restrictions and they might not be able to do all the exercises. One needs to keep in mind the condition and limitation while initiating any physical exercise regime. Like a patient of osteoporosis can't do exercises related to the neck movements or it will not be wise to expect a person with balance issues to do exercises in standing position.
---
We at Samvedna Care aim to help seniors live happy, active and independent lives, in the comfort of their home and community through interactive caregiving.
Samvedna Care was established in October 2013 with two complementary goals – firstly to provide quality home care services to seniors with limited mobility or dementia and hence social interaction, and secondly to facilitate stimulating community interaction and participation.
Our Dementia Care services are –
At-home services –
Dementia intervention activities by trained Care Specialists (already mentioned above). These services are available in Delhi NCR and Guwahati
More – https://www.samvednacare.com/service/dementia-care
Please call us for more info – Delhi NCR – 98184 21446, 124 4229659 | Guwahati – 9864015872
Dementia Support Group –
Our Dementia Support group in Delhi NCR and Guwahati is a platform for caregivers to share feelings and support each other.
More – http://www.samvednacare.org/our-work/dementia-care
Please call us for more info – Delhi NCR – 98184 21446, 124 4229659 | Guwahati – 9864015872
Cognitive Wellness Programme, Sector 57  Gurgaon  –
Samvedna's Cognitive Wellness Programme is designed for seniors with mild cognitive impairment, early dementia or Parkinson's, and elderly lacking in enthusiasm and motivation. The aim is to stimulate the mind of the elderly to slow the progression of the disease or impairment. The sessions are 3 days a week, 11AM-1PM.
More – http://www.samvednacare.org/our-work/cognitive-wellness-programme
General Wellbeing:
With our General Well Being Services we aim to raise the quality of life of seniors, specially those who may have limited mobility and social interaction due to various constraints. Our interactive programme keeps them active and engaged through physical, mental and social activities, all in the comfort of their home.
More – https://www.samvednacare.com/home-care-services/home-care-package/elder-care