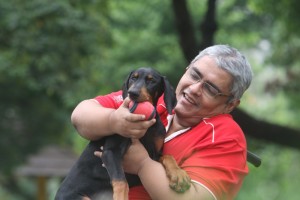 Animals have been used therapeutically to benefit people suffering from emotional and behavioural disorders for many years. With new advancements being made every year, researchers are finding that pets can have many positive effects on those suffering from dementia as well.
Pet therapy is a broad term that also includes animal-assisted therapy for people with Alzheimer's and other kinds of dementia which has received increased attention over the last several years. Animal assisted therapy is performed with a well-trained, certified animal and their handler in which the patient interacts with the animal based on treatment needs, whether playing with, caring for, cuddling or simply petting the animal. Pet therapy is used to help improve patients mental, social, emotional, and physical functions.
Some of the symptoms of dementia include apathy, irritability, restlessness, depression, changes in mood. They also tend to stay away from situations involving social contact and interaction because of the anxiety which leads to loneliness and frustration. Also people with dementia lose the motivation to maintain physical activity and sometimes neglect their basic daily activities such as eating or personal hygiene.
As many pet owners will admit, just being around an animal can have a soothing effect. It's no secret that a few hours with an animal have the power to brighten anyone's mood. When left with wagging tails, sloppy kisses, it's just too hard not to smile. And as George Eliot once said "Animals are such agreeable friends – they ask no questions, they pass no criticisms."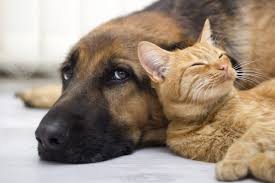 This is the idea behind pet therapy for people with dementia; Animals by their nature are non judgmental, compassionate, making them the perfect therapists and companion for individuals with dementia. Whether it's a big floppy dog, a cat, a bird or even a fish aquarium, the benefits of having a pet for one with dementia are numerous. They can provide a person with dementia with unconditional love and tremendous source of social support. Here are some benefits of pet therapy for dementia patients – 
1) Physical activity – Pets such as a dog or a cat help motivate seniors to involve in physical activity. Petting, walking and playing with them provide a fun, soothing activity that seniors can enjoy.
2) Communication outlet – Many People living with dementia have difficulty communicating and as a result can easily get frustrated. Pets communicate on a deeper level that those living with the form of a dementia can understand and appreciate.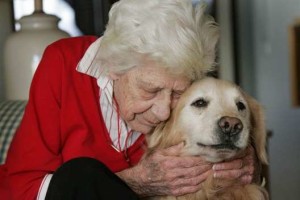 3) Emotional support – Pets form a very special bond with humans and that bond can be very fruitful for people with dementia. It has been also seen that people with dementia see pets as being non-threatening and they also tend to display more interactive behaviours. Pet therapy also helps in lessening symptoms of depression and anxiety because of its calming effects. They produce a chemical chain reaction in the brain that helps to lower down the levels of stress inducing hormones; cortisol and helps in increasing the production of feel good hormones serotonin.
4) Enjoyment – They also help with boredom and provide a distraction from their routine.
5) Sense of purpose – Being or planning to be a pet caregiver and nurturer at an older age gives a sense of being wanted and needed. It gives your loved one a reason to get up in the morning and being greeted with a feline face has the power to make anyone's day bright and full of laughter. It's just impossible to not be happy when your day starts with a dog wagging his tail or a purring cat waiting for your attention. A pet help bring routine to your loved one's life and also gives them a sense of responsibility.
6) Reminiscence – Pets can also help invoke feelings of joy, happiness, playfulness and old memories to a person with a dementia who may feel that his/her world is changing into something unknowable. Being involved with a pet also helps to reminiscence of the pets they once had.
There are numerous benefits of animal interactions with the person dealing with dementia but there are a few things which should be kept in mind while dealing with animals. Pets require care, proper maintenance and supervision especially around elderly. Pet ownership is a great responsibility and for some owning a pet may seem difficult, on top of home care of a loved one with dementia. Also many elderly would not like to own a pet but may still have the desire to have contact with animals. There are plenty of great options to look into as now many organizations are coming up that specialize in pet therapy for elderly. They bring trained therapy dogs right to your doorsteps and the loved one can enjoy the company of the therapy dogs, without you having to worry about taking care of one.
Also some people with advanced dementia could enjoy the company of an animated toy animal. These interactive toys will make noises in response to your loved one's touch and also moves. One can incorporate animals in treating dementia and related disorders in many ways. The primary goal of this therapy is to enrich your loved one's life, provide them with opportunity for joy and improving their quality of life.
Owning a pet or just calling to the organization to bring their four legged furry therapist to your doorsteps for few hours can help our aging population or the person with dementia live healthier and a more purposeful life!
---
We at Samvedna Care aim to help seniors live happy, active and independent lives, in the comfort of their home and community through interactive caregiving.
Samvedna Care was established in October 2013 with two complementary goals – firstly to provide quality home care services to seniors with limited mobility or dementia and hence social interaction, and secondly to facilitate stimulating community interaction and participation.
Our Dementia Care services are –
At-home services –
Dementia intervention activities by trained Care Specialists (already mentioned above). These services are available in Delhi NCR and Guwahati
More – https://www.samvednacare.com/service/dementia-care
Please call us for more info – Delhi NCR – 98184 21446, 124 4229659 | Guwahati – 9864015872
Dementia Support Group –
Our Dementia Support group in Delhi NCR and Guwahati is a platform for caregivers to share feelings and support each other.
More – http://www.samvednacare.org/our-work/dementia-care
Please call us for more info – Delhi NCR – 98184 21446, 124 4229659 | Guwahati – 9864015872
Cognitive Wellness Programme, Sector 57  Gurgaon  –
Samvedna's Cognitive Wellness Programme is designed for seniors with mild cognitive impairment, early dementia or Parkinson's, and elderly lacking in enthusiasm and motivation. The aim is to stimulate the mind of the elderly to slow the progression of the disease or impairment. The sessions are 3 days a week, 11AM-1PM.
More – http://www.samvednacare.org/our-work/cognitive-wellness-programme
General Wellbeing:
With our General Well Being Services we aim to raise the quality of life of seniors, specially those who may have limited mobility and social interaction due to various constraints. Our interactive programme keeps them active and engaged through physical, mental and social activities, all in the comfort of their home.
More – https://www.samvednacare.com/home-care-services/home-care-package/elder-care