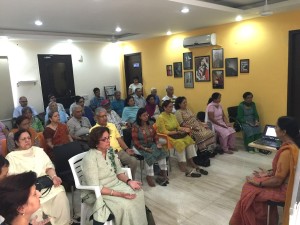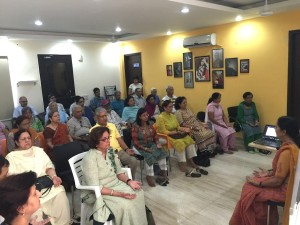 Socializing has been redefined by the technological innovations. It has made social interaction way too easy, but one which is only virtual and not real. Without realizing we spend a huge amount of our everyday lives on various social media platforms through a host of new gadgets. It gives us a false sense of feeling connected with so people nearby and around the globe by keeping us updated on what is happening with them. We have become so comfortable in this zone that the need and thereby the effort for staying connected by meeting people face to face has declined drastically.
Finding some time out from busy schedules and meeting our friends and family in person has become a tedious task these days. The real satisfaction of sharing one's feelings and thoughts which in turn de-stresses us should not be underestimated. There are various ways through which we can get to relax and get in touch with ourselves, as well as others. Meditation is one of the ways to distress the mind and body.
Mediation is an activity in which the practitioner sits and allows the mind to calm down. According to Shri Shri Ravi Shanker, "Meditation is not concentration. It is de-concentration".  Apart from relaxing the body it improves concentration and clarity, it also helps in reducing stress, lowers high blood pressure, decreases any tension-related pain and improves the immune system.
One can definitely meditate alone at home. But group meditation has some of its own unique benefits, some of which are discussed below:
1) Meditating with group helps to develop a habit
It's easy to find excuses not to meditate at home. A meditation group can provide the necessary encouragement for developing a consistent practice.
2) Feedback is available
Meditation groups often involve practitioners at various levels. A person new to meditation might find certain difficulties and confusions; the other members can help the person address the issues. Useful feedback will be provided regarding various experiences during the process of meditation.
4) Spiritual support and the power in numbers
There is a synergy which is created when people meditate together. The healing power that is cultivated in a group meditation is far more effective than meditating alone. Also, there are studies that prove the existence of a ripple effect of peace in the surrounding environment when a group meditates together.
5) Learn from each other
Meditation groups often include practitioners of varying levels. If someone is new to meditation, other members of the group can help clear up any confusion he/she may have over different types of meditation, help find answers addressing difficulties with practice, and provide feedback regarding experiences that arise during the meditation process.
6) Everything is better when shared
Meditation can help develop a real connection with the people while tapping into the same silence and source of peace at the same time. We can literally meet people at the same wavelength. Recorded EEG results show that brainwaves synchronize while meditating. EEG stands for electroencephalogram, which is a test used to evaluate the electrical activity in the brain.
Meditating in a group is a fun and healthy way to socialize and learn a new skill that is good for ones mind, body, and spirit. It can be a rewarding experience which can provide the members with spiritual nourishment vital to their development.
---
Great Times by Samvedna is our social and recreational club in Sector 43, Gurgaon, for members 55 years and above. Its a place where members come to get fit, meet like minded people and share their life experiences and give back to the community.
Activities at the club include fitness exercises, group meditation, mind stimulation, tambola, dancing, book reviews, movies, community outreach, and talks on health management. The club has a library, computer room, visits by physiotherapists and doctors, access to board games and cards, a fully functional pantry with healthy and affordable snacks and tea and coffee on the house.
Transportation is available on select routes. There are special discounts for group memberships. The club is open Monday-Friday, 11am to 5pm. There are special classes for yoga, computers, spoken english, dance, music and painting. We also have Bridge mornings every Tuesday and Thursday.
Know more here – Great Times Club