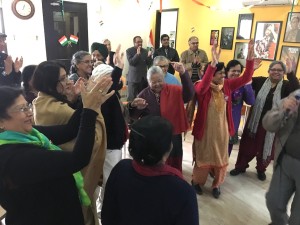 Dance movement therapy is aimed towards the holistic growth and development of the individual through the integration of various aspects of functioning. It helps the individual to take every step in a very creative and simple way.
According to the American Dance Therapy Association (1970), dance movement therapy is defined as "the psychotherapeutic use of movement as a process which furthers the emotional, cognitive and physical integration of the individual." People with dementia-related disorders such as Alzheimer's experience anxiety, frustration and fear, along with physical changes, as memory loss progresses.
It is largely based on the idea of movement as a metaphor. When nonverbal communication is dissected the information at hand can provide increased awareness of the self, patterns of behavior, belief systems and relationships. DMT works with people to help them improve their body image and self-esteem. It is a versatile form of therapy founded on the idea that motion and emotion are interconnected. The creative expression of dance therapy can bolster communication skills and inspire dynamic relationships. Various aspects of a dance session, such as the music, exercise, and social components of dancing, may achieve positive effect. Some of the benefits include:
1) Relaxation: It increases the amount of endorphins in the brain which result in you experiencing a sense of well-being and the rhythmic movements can also help you feel calmer.
2) Mind & Body Connection:  Dance therapy helps ease problematic behaviors such as agitation which is common among individuals with dementia who are frustrated with their changing abilities. It helps individual to calm down, reassuring, boosts self-confidence and self-esteem.
3) Building Motor Skills: It enhances motor functioning helping with balance and coordination. It is also useful for individuals with Parkinson's as it helps to maintain motor functioning.
4) Communication: It allows the individual to express body language, non-verbal behaviors, and also regulate emotions. It helps to increase confidence, social and communication skills as well as improve self-esteem and over all attentiveness in individuals.
5) Agitation Management: Non-verbal individuals in late dementia often become agitated out of frustration and sensory overload from the inability to process environmental stimuli. Engaging them in singing, rhythm playing, dancing, physical exercise, and other structured music activities can diffuse this behavior and redirect their attention. It stimulates memories and provides opportunities for reminiscence.
6) Emotional Closeness: As dementia progresses, individuals typically lose the ability to share thoughts and gestures of affection with their loved ones. However, they retain their ability to move with the beat until very late in the disease progresses.
Inclusion of DMT in dementia care creates a holistic approach that enhances the wellbeing of the individual. Even if done in a simple way, it transforms the individual from being sad or depressed or in pain to being happy. Like Jill Hayes said,"Even if movement is minimal it can still be full of meaning and expression."
---
We at Samvedna Care aim to help seniors live happy, active and independent lives, in the comfort of their home and community through interactive caregiving.
Samvedna Care was established in October 2013 with two complementary goals – firstly to provide quality home care services to seniors with limited mobility and social interaction due to various constraints, and secondly to facilitate stimulating community interaction and participation.
Our Dementia Care services are –

At-home services –
Dementia intervention activities by trained Care Specialists (already mentioned above). These services are available in Delhi NCR and Guwahati
More – https://www.samvednacare.com/service/dementia-care
Please call us for more info – Delhi NCR – 98184 21446, 124 4229659 | Guwahati – 9864015872
Cognitive Wellness Programme, Sector 57  Gurgaon  –
Samvedna's Cognitive Wellness Programme is designed for seniors with mild cognitive impairment, early dementia or Parkinson's, and elderly lacking in enthusiasm and motivation. The aim is to stimulate the mind of the elderly to slow the progression of the disease or impairment. The sessions are 3 days a week, 11AM-1PM.
More – https://www.samvednacare.com/cognitive-wellness-programme
Dementia Support Group –
Our Dementia Support group in Delhi NCR and Guwahati is a platform for caregivers to share feelings and support each other.
More – https://www.samvednacare.com/dementia-support-group
Please call us for more info – Delhi NCR – 98184 21446, 124 4229659 | Guwahati – 9864015872