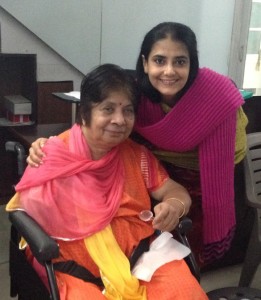 The role of children reverses from being cared by their parents to becoming caregivers of their parents. This shift in roles may not be easily accepted by all parents. They are likely to be reluctant to give up their independence and allow their children to make decisions for them.  Even though the children grow up as adults their parents see them as children only and communicating to them that they need professional help can lead to a power struggle and hurt feelings.
But learning how to communicate and express love and respect to parents can help them become a little more willing to let their children help them as they age. Understanding your parent's fears, such as a decline in quality of life, while respecting their independence is key for a healthy relationship with aging parents. Below are some of the ways for parents to be receptive to professional elder care are:
1) Honest approach towards parents: Concern of children should be conveyed openly. Children should offer their help in decision making rather than insisting to take control. It may be easier for parents to be receptive to your help in the long run. Observations should be shared with parents for future fruitful conversations.
2)  Be patient: Don't talk to parents like they are children; they are adults and still parents. Give them time to think about their options. Children should express their concerns and offer them help to handle their health care, finances and other issues.
3) Expert advice: Bring in the experts like the family doctor parents visit regularly, lawyer or financial advisor to recommend or even prescribe that parents need some professional help.
4) Explain the benefits:  Stress what the benefits are to them and that they will have a choice in the decisions that need to be made. When it is presented as an offer rather than insisting that someone is taking control, it may be easier for parents to be receptive.
5) Maintain parent's independence: Decide what responsibilities and decisions parent can still control. Their independence should not suddenly be taken away from them.
——–
About Samvedna Care
We at Samvedna Care aim to help seniors live happy, active and independent lives, in the comfort of their home and community through interactive caregiving.
Samvedna Care was established in October 2013 with two complementary goals – firstly to provide quality home care services to seniors with limited mobility and social interaction due to various constraints, and secondly to facilitate stimulating community interaction, participation and healthy ageing.
We provide home services that cater to the intellectual and emotional well being of seniors, assist them in tasks like banking, travel booking and hospitalization, and facilitate emergency support for them. Our services plans are geared towards general well being, dementia care, and emergency and respite care.
Great Times Club by Samvedna in Sector 43 Gurgaon is a social hub for members 55 years and above. Its a place where members come to get fit, meet like-minded people and share their life experiences, learn new things and give back to the community.