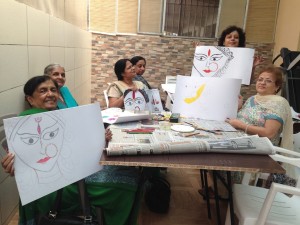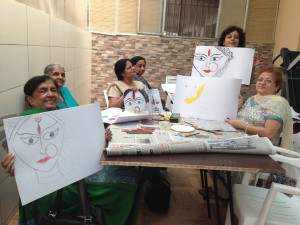 Visual art therapy involves using different mediums such as paint, clay, chalk and photography to create something that the participant can use to express themselves easily. Research has shown that encouraging people who are living with dementia to take part in regular creative activities significantly enriches and improves their quality of life, helping many to live well with their condition.
Roadblocks to verbal communication laid by dementia are by-passed through the artistic process and individuals can express themselves in a more meaningful way. It stimulates areas of the brain that they may have thought were lost forever. When we encourage the individual with dementia to communicate using emotional and creative centers of the brain sometimes becomes less obvious that they are even affected by the disease.
A study reveals that artistic skills help dementia patients to communicate with family members and caregivers. The study focused on a patient named Mary Hecht. Due to severe vascular dementia, she was unable to recall common words or animals, but she was able to sketch intricate and precise drawings from her memories. The artistic temperament encourages dignity, validation and a sense of wholeness. Although words that are lost cannot be used, the artists can re-establish a value in themselves and others. Relationships and empathy improve, while dead ends in language are surpassed by the individual's ability to express their stories creatively. Anxiety and feelings of isolation are decreased. Art, dance and music inspire people suffering from these frustrating circumstances to connect with others. Therapeutic art programmes stimulate their mind and reduce symptoms of aggressive behavior because of the enlightening opportunities that they bring.
Painting and drawing are common hobbies. They are all excellent ways to relax, but creating art is more than just a recreational pastime. Art provides a way to reach inside them to put on paper or some other medium a representation of thoughts and feelings, that they may not be able to express in any other way. It allows them to express those feelings that they can either not find words to explain or are simply too difficult to even attempt to.
Art Therapy won't eliminate the illness but it can stimulate the brain in a new direction. The creativity and happiness that art brings can make all the difference in the life of a loved one's whose condition has been progressively declining.
Teaching an art activity to a patient in the early and middle stages of dementia requires modeling by the instructor, caregiver or trainer. Here are some of the Visual art therapy activities for patients with dementia:

1) Painting: Art therapy activities such as painting, may involve the practice and the repetition of hand movement especially with people who have motor problems. It is also a way to express one's feeling, providing a medium of communication.
2) Finger painting: Art and craft activities provide the possibility for multi-sensory stimulation. In fact, activities that incorporate visual observation, tactile experiences and physical interaction give seniors the opportunity to become cognitively and physically engaged as a participant.
3) Mud clay modelling: It allows an individual to express an array of emotions. For elderly people and those suffering from dementia provides creative stimulation, social interaction, develops fine motor skills also increases concentration and motivation.
4) Abstract painting: It gives the opportunity to validate the individual's thought processes and imagination. The use of different objects may remind them of the experiences they have had and help them to express and explore their feelings.
5) Paper folding: A person with dementia creating a simple origami flower may learn paper folding steps by repeating and practicing them. Doing origami increases the amount of blood flowing in the brain, thereby helping it function better. It stimulates mind, body and hand coordination.

Visual Art Therapy has been used in the healing process to relieve stress and develop coping mechanisms, in an effort to treat both the physical and mental needs of the patient. It helps to reduce emotional conflict, foster self-awareness, manage behavior, develop social skills, improve reality orientation, reduce anxiety, and increase self-esteem.
Art activities can be implemented as effective intervention activities for seniors with Moderate Cognitive Impairment (MCI) and those in early and middle stages of Alzheimer's and dementia. Art therapy intervention activity can provide multi-sensory stimulation, memory training goals and even an opportunity to reminisce.
---
We at Samvedna Senior Care aim to help seniors live happy, active and independent lives, in the comfort of their home and community through interactive caregiving.
Samvedna Senior Care was established in October 2013 with two complementary goals – firstly to provide quality home care services to seniors with limited mobility and social interaction due to various constraints, and secondly to facilitate stimulating community interaction and participation.
Our Dementia Care services are –

At-home services –
Dementia intervention activities by trained Care Specialists (already mentioned above). These services are available in Delhi NCR and Guwahati
More –https://www.samvednacare.com/service/dementia-care
Please call us for more info – Delhi NCR – 98184 21446, 124 4229659 | Guwahati – 9864015872
Cognitive Wellness Programme, Sector 57 Gurgaon –
Samvedna's Cognitive Wellness Programme is designed for seniors with mild cognitive impairment, early dementia or Parkinson's, and elderly lacking in enthusiasm and motivation. The aim is to stimulate the mind of the elderly to slow the progression of the disease or impairment. The sessions are 3 days a week, 11AM-1PM.
Dementia Support Group –
Our Dementia Support group in Delhi NCR and Guwahati is a platform for caregivers to share feelings and support each other.
Please call us for more info – Delhi NCR – 98184 21446, 124 4229659 | Guwahati – 9864015872