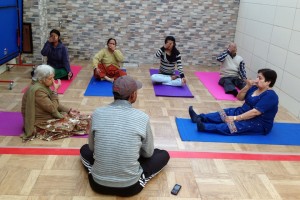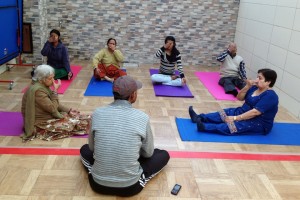 A spiritual perspective on aging is not just for personal transformation; it is a medicine for longevity and health. Research shows that people with an active involvement in spiritual practices live on average seven years longer than those who don't.
There have been many researches to see if spirituality helps in ageing well and the results have been affirmative. In 2000 Lou Harris and Associates conducted a study of more than 3,000 adults for the National Council on the Ageing . 67% of seniors in the study said that having a rich spiritual life contributes meaning to life. The majority of participants born between 1946 and 1964 in the study also said that, when "thinking about their later years," having a rich spiritual life is very important. Another research evidence from over 1,200 empirical studies and 400 reviews taken by Koenig and colleagues has shown an association between faith and religious practice and health benefits, including protection from illness, coping with illness and faster recovery.
Following are the 5 spiritual practices for Ageing Well:
1. Develop daily rituals
Sit with yourself and close your eyes. Even for 5-10 minutes. Watch and focus on the breath. Every time the mind starts to chatter with to-do lists, regrets about the past or worries about the future just bring it back to the breath. Watch your thoughts. With no judgement and create a self- awareness. Soon you'll start to notice how much you live in the antics of your mind, not the present moment. The key to peace and happiness is nothing external. It is actually just being fully present.
2. Connect with your body
Make some time to sit and stretch. Do Yoga or dance or start a fitness routine that you love and make you feel good. The idea is to release the tension and increase the connection to your body.
3. Gratitude
Gratitude opens door to more relationships, improves physical and psychological health, enhances empathy and reduces aggression. Grateful people sleep better. Gratitude improves self-esteem and increases mental strength. It is a very healthy practice to keep a daily journal in which seniors can write things they are grateful for. This will create a positive outlook towards life and it will help in building a happy world.
4. Reframing
Aging includes its share of reverses, losses and sorrows. What makes the difference is our attitude about them. The happiest people don't necessarily have the best of everything; they just make the best out of everything that comes their way. So instead of complaining about a situation a positive approach towards it can make life easier.
5. Flexibility
Things change as we age, and some of those changes are irrevocable. In the face of these changes, it's important that the seniors not become rigid and stuck in their ways. With every reversal comes new opportunity. No matter what the issue, no matter how big the problem, there is always something constructive that one can do. Never give up; never let aging get the better of you. This is how the "extraordinary elderly" do it — the ones who have beaten the odds to enjoy their old age to the very end.
We truly wish health and happiness for our senior citizens and it will be a blessing for us if we can contribute in ageing well of the seniors.
——
Samvedna Senior Activity Centre in Sector 57, Gurgaon, is a place for seniors to nourish their mind, body and soul. We have a series of programmes to suit different interests.
The Mind, Body and Soul programme at the centre takes a systematic approach to holistic wellness. It has been designed with the aim of facilitating harmonious physical, mental, emotional and spiritual development of seniors. Some of the activities in this programme are yoga, meditation, computer classes, spiritual discussions, creativity workshops and mind stimulation exercises. Know more here –
https://www.samvednacare.com/home-care-services/home-care-package/caregiver-services