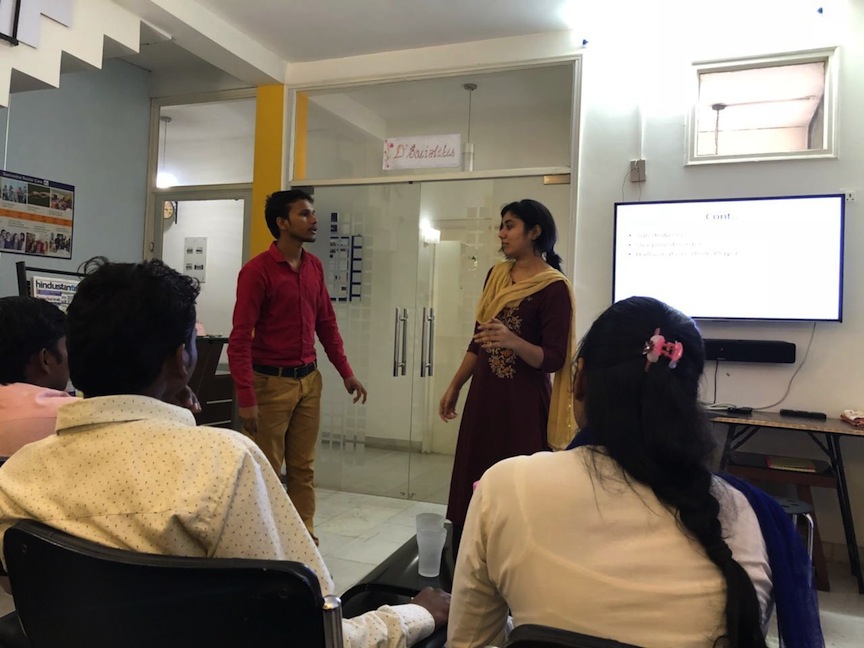 As we age, our dependency and hence need requirement for support increases. Dependency can be physical, social, psychological, or/ and  emotional and it can be even more critical if a senior develops any form of disease which has an impact on their cognitive abilities, for eg, dementia or any other related disorder. Under such circumstances, our elderly loved one needs a helping hand from a person with compassion and sensitivity to understand the disease and its related symptoms.
At the same time it is important that we don't impact the dignity and sense of independence of our elderly loved one. Hence it becomes important for the caregiver to be trained and educated to sensitively solve the problems of our loved ones.
But the major question arises who should be that helping hand and what skills, qualities and training should he have?
And why do I really need such trained person for geriatric care if I already have a dedicated maid at home?
The answer can be understood through the following important areas:
1) Change in the Indian family system – City life is becoming more fast paced and competitive with time, and demanding careers and lifestyle take up a large part of our time. This has certainly impacted the older Indian's existing pattern/way of care. Earlier, children used to take care of the physical and other needs of their aging parents but now they hire a carer for them. They create a support system for their elderly, so that the elderly can lead an active and engaged life.
2) Increase in population
Undoubtedly, the geriatric population as well as the number of people with dementia (4 million) is increasing at a high/steady rate in India. So the rising geriatric population clearly indicates that demand for trained attendants and nurses will increase.
3) Brain disorders need constant care
We all know that disorders like dementia are incurable, but they are manageable. A trained attendant is a critical element of dementia care that can help to improve quality of life of your loved one.  The disease is progressive in nature and it requires constant care of the patient. Moreover, the care has to be person centered and flexible which is not possible until someone trained person steps in the care process.
4) Challenging behaviours require skills to handle
Soft skills, knowledge and training is required to manage challenging behaviours of seniors especially in dementia. How to distract if the patient is anxious, how to react if your loved one is hallucinating, how to control pacing, how to manage anger, agitation and catastrophic changes, all such situations require the expertise of a trained attendant. Moreover, the training enables attendant to prepare for the unexpected in advance and how to deal with it when it comes.
5) Social component of dementia care
Generally patients with the moderate/ advance stage dementia require an attendant for their personal care like assistance with walking, bathing, eating, toileting etc. But we shouldn't ignore the fact that our loved one still has some social, psychological and emotional needs. An Ayah or maid wouldn't be able to understand such unmet needs so a trained attendant is required.
How do we train the attendants?
Keeping the rising need in mind, Samvedna Care has taken the initiative to train the attendants-nurses and make them well equipped for geriatrics and dementia care. The participants are moderately (senior secondary) educated with some certification in caregiving, and have experience of working in hospitals and are able to administer medical care to the patient like injections, IV drips, keeping track of vitals like BP, sugar and medication management.
Our training module comprises of both theoretical and practical learning and it gives vital information on handling geriatric problems especially in dementia care. We understand that geriatric patients require much more than physical care. We train our attendants to understand the importance of social, emotional and psychological support which is needed by the patient. Similarly, we guide them to develop their own coping strategies to maintain mental peace at work and their lives.
Our strength
The training at Samvedna is provided by the qualified dementia experts who have on field experience in handling the symptoms of dementia. The participants are taught about the disease in detail from the beginning which covers primary causes of dementia, its symptoms, the anatomy of brain and possible ways to handle challenging behaviours in dementia.  We also give the participants an opportunity to share the challenges they encountered in caregiving process. The training programme ends with role plays and detailed discussions around the queries raised by the participants.
---
We at Samvedna Care aim to help seniors live happy, active and independent lives, in the comfort of their home and community through interactive caregiving.
Samvedna Care was established in October 2013 with two complementary goals – firstly to provide quality home care services to seniors with limited mobility or dementia and hence social interaction, and secondly to facilitate stimulating community interaction and participation.
In-Home Trained Attendant Service
Samvedna Care's trained in-home attendant service brings to you verified attendants and nurses, specially trained by specialists in elder care and dementia. Our staff is trained to not only take care of your elderly loved one's physical wellbeing through top class personal care and nursing, but also their emotional wellbeing.  The attendants are monitored by our Senior Care Specialists (psychologists and MSWs)
Our service is available across Delhi, Gurgaon and Noida. We offer both male and female attendants as per request, for 12 and 24 hour shifts.
Know more about our Trained Attendant Services here https://www.samvednacare.com/home-care-services/home-care-package/caregiver-services. You can also call us on 98184 00561 or write to us on contact@samvednacare.com.