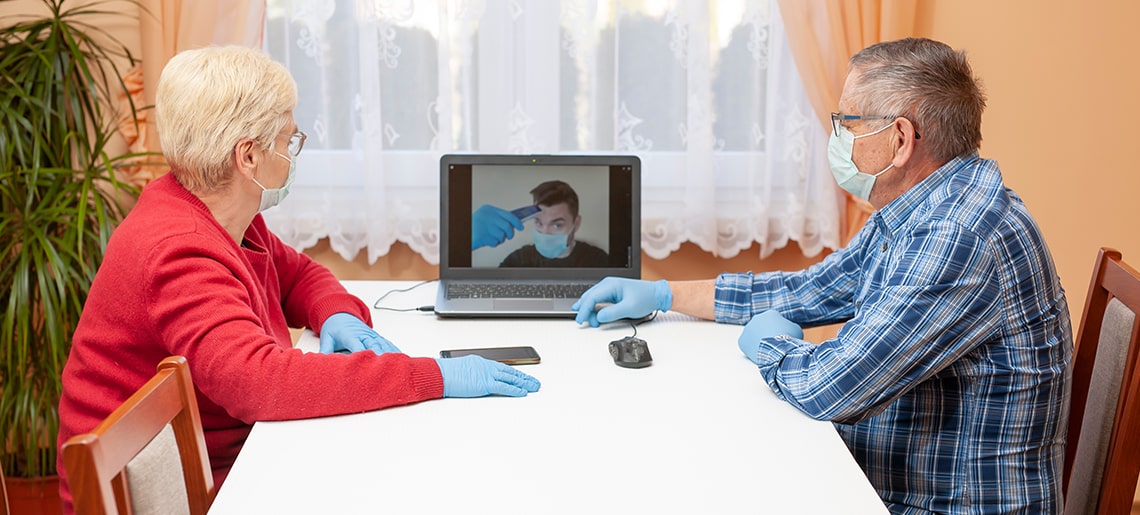 Are you worried about your older adults during the lockdown period? Are you wondering how they must be coping, alone? Well, your concerns are justified. With the coronavirus pandemic, life has come to a grinding halt for everyone, everywhere. While the younger generation is keeping busy with work, studies, and family life, the older parents and grandparents have little to keep themselves occupied. Even when this prolonged lockdown ends, the older adults will need to maintain social distance and stay at home. However, being alone gets boring. Isn't it? If they sound tired, low, or depressed, then it's time you need to introduce them to some creative ways to communicate. Maintain social distance yet stay connected and happy.
Here are some creative ways using which you can stay in touch with them, even during the quarantine period.
The Good Old Phone Call: Your older adults are only a phone call away and that one call does matter for them. Even if you can't meet them, you should call a couple of times during the day and strike up a conversation on any subject. Such an effort from your end will make them feel engaged and not isolated.
Video Call, Everyday: Living in an Internet era, you can hear and see your elders every day in any part of the globe. With multiple video calling applications, you can easily talk to them, share what you are cooking for the day, and more. Video chats are often more fun and engaging, and your dear elderly will feel loved and cared.
The Tech Class: Your elderly may know how to type a text message or start a video call? However, there is so much more they can do once they become even more tech-savvy. Now that you are also working from home, spare some time, and start taking their virtual online technology classes. Familiarise them with various applications and tools, and how they can use them for keeping busy. You can also opt for smartphones facility for elders in elder care centres in Delhi, or any other city where they may be residing – every care centre for elderly is now adapting to the new normal hence introducing such classes.
The Virtual House Party: It can be another fun way of engaging your older adults and knowing if they are eating well. Plan a virtual house party and get some immediate and extended family members or close friends on a video call. You can all eat together and talk endlessly and spend some quality time together.
Enrol for Online Classes: There are several online classes taking place, and you can easily enrol your older adult, and they can attend it from home. It can be a great way of learning something new and making the most of this lockdown period. If you share a common hobby with them, then you can take a joint class, learn together and stay connected.
Along with keeping them busy with the above means, you can also send them their weekly groceries and vegetables online. These small gestures are significant during these challenging times. If, however, you notice that your older adult is skipping the medicines and meals or feeling too low and you need some professional help, then connect with team Samvedna, the elderly care centre and elder care home in Delhi. We also have dementia care centres in Delhi and offer our online services for all those who are seeking help in this regard. Yes, we are still available, and only a phone call away. We are offering online consultation, teleconsultation, and eldercare support. For anything significant or small, you can reach out to us, and we will be there for your elder's care.
Our online counsellors come with extensive experience in geriatric mental health issues. They have worked with patients of depression, addiction, dementia, and various other psychological disorders. Even if they are experiencing coronavirus scare, you can book an online session with our counsellor, and they will help them reconcile. Know more about our online counselling sessions from here and let a Samvedna Care expert be there for your older adult during this time.