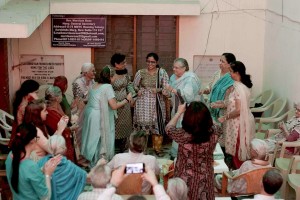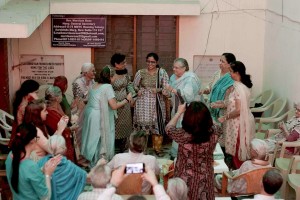 Olympic champion Usain Bolt volunteered to run as a guide runner for visually challenged Paralympic star in a 50m sprint in Rio. What is it that makes people take time out of their busy schedules and make time for making a difference in someone else's life?
We often see students volunteer during their vacations, working people volunteer over weekends, and seniors doing volunteer work post retirement. Volunteering helps reduce stress, make new friends, connect with community, learn new skills, combat depression, and most importantly provides a sense of purpose. One can volunteer to help people meet their basic physical needs, emotional and psychological needs, or social needs. Doing this not only gives an avenue for meaningful engagement, it also provides greater life satisfaction by giving back to society.
Volunteering has many benefits for senior citizens –
1) Enhanced self esteem and a sense of purpose – Volunteering helps in self-discovery and finding out what our talents and strengths are. When we are called upon to manage events, listen, care for people, and provide support to an organization, we feel a sense of purpose. Many volunteers gain enhanced self-esteem and confidence in their talents and abilities.
2) Share knowledge and experiences: Senior citizens have vast experience and are knowledgeable. After spending a major part of life following a set routine, whether working or raising a family, post retirement, seniors look for different opportunities to engage themselves. Volunteering is a great option for that! It helps in keeping one mentally stimulated and physically active and improves decision making ability.
3) Meet like-minded people: Social isolation and loneliness are common concerns and fears amongst senior citizens. They often take a back seat because they feel their responsibilities towards their family and society have come to an end. Volunteering is a good way of meeting like minded people and forming new friendships with people of all ages.
4) Health benefits: Older people who volunteer remain physically functional longer, have more robust psychological well-being, and live longer. Experts say that when we focus on someone other than ourself, it interrupts usual tension-producing patterns. Moods and emotions like optimism, joy, and control over one's fate, also strengthen the immune system.
5) Volunteering makes one happy!: Volunteering creates social bonds that make us feel loved. Understanding the concerns and needs of our community helps foster empathy. Empathy makes us more loving and helps us create deeper and more meaningful relationships, which in turn contribute to our happiness.
Like Ralph Waldo Emerson once said, "The purpose of life is not to be happy. It is to be useful, to be honorable, to be compassionate, to have it make some difference that you have lived and lived well."
Great Times Club by Samvedna's Community Outreach Programme
This is a social service programme for club members, to give them a platform to bring together seniors who want to volunteer and make a difference in people's lives.
Our first two projects are in collaboration with NGOs working with children.
Harmony House (Sector 17A, Gurgaon) – Harmony House is a day care centre for children from neighboring slum areas. It caters to more than 500 children, between ages 2-17 years. Over 400 children from this centre have been enrolled in regular government and private schools. We are bringing together a group of seniors to teach these children english, maths, moral education and life skills.
DESIRE Society (Sector 54, Gurgaon) – DESIRE Society is a Hyderabad based NGO that works with children affected by HIV. The building houses 27 children between ages 2-15 years.Volunteering opportunities include teaching english and moral education and taking the children out on social outings like picnics, tree plantations and awareness drives, and celebrating festivals with them.
If you wish to be a part of our programme, please call us on 9818421446, 0124-4229659 or write to us on [email protected]
———
Great Times by Samvedna is our new social and recreational club in Sector 43, Gurgaon, for members 55 years and above. Its a place where members come to get fit, meet like minded people and share their life experiences and give back to the community.
Activities at the club include fitness exercises, mind stimulation, tambola, dancing, book reviews, movies, community outreach, and talks on health management. The club has a library, computer room, visits by physiotherapists and doctors, access to board games and cards, a fully functional pantry with healthy and affordable snacks and tea and coffee on the house.
Transportation is available on select routes. There are special discounts for group memberships. The club is open Monday-Friday, 11am to 4pm. There are special classes for yoga, computers, spoken english, dance, music and painting. We also have Bridge mornings every Tuesday and Thursday.