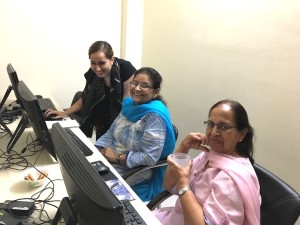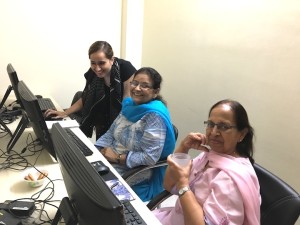 Technology has come a long way over the course of older adults' lifetimes. They have witnessed everything from men landing on the moon to dramatic medical advances and the rise of an Internet – centric society. Seniors also bear witness to the ways technology is changing the face of aging.
The number of seniors using the Internet and social media websites is on the rise. Technology does not just end at Internet use. The use of technology amongst seniors is also increasing for products like mobile phones, tablets and applications. There are several benefits that come from the use of technology by seniors on different technology mediums –
1. Social Connection – Video Chat and Social Media Keep Seniors in Touch with Long-distance Loved Ones
According to United Healthcare's 2012 survey of centenarians, staying socially engaged is just as important to healthy aging as genetics and maintaining a healthy body. While no technology can take the place of in-person human interaction, video chat services like Skype, or Internet-based communication channels such as email and social media, can supplement seniors' social interactions when visits with friends and family aren't possible or infrequent. Seniors can check with their local senior center for Internet how-to classes, or they can have a tech-savvy grandchild get them set up and teach them the ropes.
2. Safety – Seniors Living Alone Can Get Help with the Push of a Button
Surveys consistently show that 80 to 90 percent of seniors want to stay in their own home as they age. A number of technological solutions can make doing so safer for them. Any senior that lives alone should have a Personal Emergency Response System (PERS). A PERS device allows the wearer to call for help with the simple push of a button. Both seniors and their families can have peace of mind knowing that PERS can facilitate a call for help in any emergency situation. Safety is also a paramount concern for seniors who suffer from Alzheimer's disease or other dementias, especially those prone to wandering. A number of GPS tracking devices that can monitor a senior's location and send alerts are great tools to keeps caregivers' worries at bay and prevent potentially dangerous or deadly situations.
3. Exercise – Video Games Get Seniors' Bodies and Minds Moving
Many nursing homes and assisted living communities have already recognized the recreational and exercise benefits that sport games offer for elderly adults. Seniors living at home could also benefit by owning a video game system controlled by motion. The games offer a fun opportunity for seniors to engage in light physical activity from the comfort of their own living room. For mental exercise, seniors could try games such as Tetris (spatial recognition), Trivial Pursuit (fact recall), or Mahjong (memory and matching). Encourage seniors to practice on their own and then challenge their grandkids.
4. Medication Management – Smartphone Apps Can Help Prevent Medication Errors
Many seniors find it challenging to keep track of their medications. The reason why is clear. More than half of the older adult take at least five different prescription drugs regularly, and around 25 percent of the older adults take between 10 and 19 pills a day. Pill boxes help, but technological solutions that also provide reminders and "time to refill" alerts could potentially aid adherence to the prescribed medication schedule. Seniors and their caregivers can take advantage of the medication reminder smartphone apps to reduce missed medications and prevent medication error.
5. Health Tracking – Online Tools Simplify the Process of Maintaining and Accessing Seniors' Health Information
Smartphone apps and cloud-based health information tracking systems can help seniors and their family caregivers keep information such as medical history, physician contacts, medication schedules, and health conditions organized and handy. It makes it much easier to have access to a complete set of information about a senior patient, thus helping you make the most informed treatment decisions.
Overall, seniors that are active with technology express increased socialization, decreased depression, opportunities for continued learning, education and brain health, a sense of purpose and gaining new skills as well as the opportunity to pass on wisdom to future generations. There are several ways for seniors to engage with technology and there are an increasing number of classes available to seniors that teach them how to use the Internet, social media sites and beyond.
——–
Great Times by Samvedna is our new social and recreational club in Sector 43, Gurgaon, for members 55 years and above. Its a place where members come to get fit, meet like minded people and share their life experiences and give back to the community.
Activities at the club include fitness exercises, mind stimulation, tambola, dancing, book reviews, movies, community outreach, and talks on health management. The club has a library, computer room, visits by physiotherapists and doctors, access to board games and cards, a fully functional pantry with healthy and affordable snacks and tea and coffee on the house.
Transportation is available on select routes. There are special discounts for group memberships. The club is open Monday-Friday, 11am to 4pm. There are special classes for yoga, computers, music and painting. We also have Bridge mornings every Tuesday and Thursday.
Call us for more info – 9818421446, 0124-4229659 | Address – Great Times, 1304 St. Thomas Marg, Sector 43 (Opp Shalom Hills School), Gurgaon