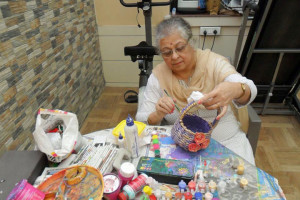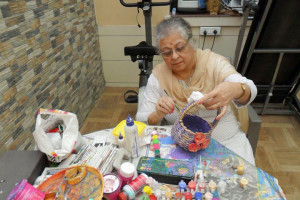 "To live a creative life, we must lose our fear of being wrong" – Joseph Chilton Pearce
How many times have you not even started something because you didn't know the right way to do it? The beauty of creativity is that there is no definite right or wrong way of doing things.
Creativity has nothing to do with any activity in particular – painting, poetry, dancing, singing. It is the quality that you bring any activity. Being creative is all about turning imaginative ideas into reality. Every one can be creative, and expressing one's creativity through artistic and other activities can have a positive impact on health by engaging the mind and a sense of purpose.
Creativity stimulates cognitive function and enhances self- esteem, while reducing stress and anxiety. Being creative in a group environment, with friends or through local clubs and classes, enables people to enjoy not just the activity but also the social experience. Here are some benefits of being creative:
1) Sense of purpose: Ageing is characterized by a number of changes at all level, physical, emotional and social , which leads to changes in priorities and lifestyles. According to a study published in the Journal of Aging Studies, study participants, aged 60 to 93, identified six features of successful aging: a sense of purpose, interactions with others, personal growth, self-acceptance, autonomy, and health. Participating in creative activities boosts problem solving skills and gives them a sense of satisfaction and self-pride .
2) Brain health: Research has shown that we ourselves can keep our brain and mind healthy through creatively challenging ourselves in a sustained manner. When the brain is challenged through activities and our environment, it is altered through formation of new synapse or connections. More connections mean better communication among brain cells. Every form of art provides optimal utilization of the brain. Art activities are specifically good as they are easily sustained, and the benefits of challenging the brain increases when it is ongoing.
3) Physical Health: The impact of art, music, and writing can be seen in our physical body as well. A research published in the Journal of Psychosomatic Medicine used writing as a treatment for HIV patients found that writing resulted in improvements of CD4+ lymphocyte counts. Also the influence of a sense of control is more pronounced in the second half of life. Art provides some of the best opportunities to experience a new sense of control or mastery, and thereby an increased feeling of empowerment.
4) Wellbeing: Decreased productivity in later years can make us prone to loneliness and depression and also give rise to feelings of isolation and a general lack of interest in life. Art, music, gardening and other creative outlets have been proven to improve both mental and physical well-being in the elderly. Creative expression can even improve poor sleeping habits. It can also help inculcate a positive outlook in life, which in turn boosts morale and the immune system to better fight disease.
According to Howard Gardner, the author of Theory of Multiple intelligences, there are seven key abilities (or types of intelligence) that we use to know the world and carry out different tasks, and each of us possess a unique blend of these seven types. Where individuals differ is in the strength of these intelligences. Based on his theory, below are some ways of creatively exploring these intelligences and building on them, depending on one's interest and ability:
1) Musical activities: Take up a new musical instrument or revisit an old favorite. You could also get involved with a singing a group or choir, or even write your own music
2) Art and craft: Art forms like pottery, painting, sculpture and designing are interesting for seniors who have a vivid imagination and the ability to visualize.
3) Linguistic activities: Creative writing, storytelling or participation in book clubs and writing groups are just a few ways to explore abilities with language and words.
4) Physical activities: Sports, dance and other performing arts are a beneficial way of creative expression.
5) Pursuing hobbies: There are many exciting hobbies that seniors can pursue like photography, scrap-booking, crossword puzzles, teaching, volunteering and travel.
———
Samvedna Senior Activity Centre in Sector 57, Gurgaon offers seniors a space to nourish their mind, body and soul, participate in purposeful and recreational activities, interact socially and unwind.
The Get Creative program at the centre will give seiners a chance to explore and express their creative side through activities like art & craft, gardening, cooking, pottery, painting and creative writing. There will be individual as well as group activities. This will also be a platform for members to do small collaborative projects, display their skills and talents, and learn and teach. Know more here –https://www.samvednacare.com/home-care-services/home-care-package/caregiver-services