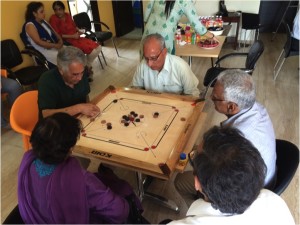 When seniors reach the age of retirement they often come up with a question….now what? All of a sudden they find themselves with ample free time and old age can be a lonely time in a person's life. Some people lose their significant other; others have family or friends that move away and some develop health issues that prevent them from leaving the house. Living without a purpose is enough of a reason for many elderly people to isolate themselves from any social interaction and often go into depression.
Keeping in mind the importance of finding a purpose in the lives of elderly, this blog is a guide for helping elderly parents live a meaningful and active silver innings. We have dedicated this blog to all those seniors who are living an active old age and a motivation to those who wish to have an active post- retirement life.
Below are steps to be followed to help your elderly parents to find a purpose in their old age:
1. Don't conform to stereotypes
If they enjoy something, let them get out and do it. If health problems interfere, find ways to work around them and still motivate them to get into the things that matter to them.
2. 5 principles of health
Make your elderly parents to follow the 5 Principles of health: Eat healthy, quit unhealthy habits, practice positive thinking, stay active and take up meditation. Write down somewhere in the room where they can have a look every day and practice regularly.
3. Aim to be active every day or at least for some hours of the day
Don't let their mind to wander aimlessly. Suggest that they go walking, jogging, do yoga, listen to music, read books, do puzzles, play games, meet or call friends…the list is endless. They have all the time to spend it in their way with no deadlines to meet and they don't have to wait for a Sunday to play their favorite sport.
4. Cultivate happiness
In old age, it is necessary to make an effort to cultivate inner happiness through daily exercises that can maintain both physical health and inner peace. Help them to make a choice to stay happy rather than giving in to socially condoned decline.
5. Say 5 good things about yourself everyday
Make them write an affirmation list of good things about themselves. Write it, read it and believe it in. This will maintain a high self-esteem and is related to major share of happiness and satisfaction.
6. Call family and friends
Help them use the gift of technology. Stay in touch with them through Skype or other networking sites. Surprise them by a video call. Keep sending the latest photos of their grandchildren if they are staying far.
7. Learn a new technology or a new language
Learning has no age limit and is a lifelong endeavor. Many researches have proved that learning helps in generating new brain cells. Seniors can join an activity centre where seniors are offered interesting classes.
8. Pass on your knowledge to the gen-next
Stories are a good medium to pass on the wisdom and experiences and seniors has a reservoir of them to share.
9. Read Books
Reading is one of the best trainers for maintaining a positive mind and keeping away negative thoughts, and also for answering many of their questions.
10. Practice yoga or mediation
A calm mind is a positive mind, and using yoga and meditation to self calm whenever senior feels doubt or unhappiness is a good practice. If yoga doesn't work for them they can try chanting or other spiritual exercises. These things are most effective when practiced on a daily basis.
11. Keep a pet
If the senior likes pets, its a good idea to have one. The love, comfort and connection with a pet is as important to them in old age as it is at any age. Choose a pet that is easy to care for and can be handled without much worry.
12. Have a hobby
Life has a purpose when we make choices about the things that we want to do and then do them. A hobby is an excellent way to remain fulfilled and interested in what is happening around. Motivate your elderly parents to stay involved in an enjoyable, affordable and fun activity.
13. Be social
Seniors can find their friends on the Internet or they can have chitchat while going for their morning or evening walks. Don't let them get isolated.
14. Motivate them everyday
In old age, thinking can easily become negative because ways are set and change becomes something very difficult to accept. Though it is very difficult to motivate them every day for exercise, find a way to re-energize them and to help them to cope with the changes that they are facing. Maybe you can write a motivational phrase which will remind them of their worth and gives them the power to live a positive life.
15. Have a bucket list of wishes and go for it
Let them make a bucket list of wishes and support them to live those wishes. It can be as simple as going for a movie with the grand children or anything which will make them to look forward to it.
A sense of purpose may not be a basic necessity like food and shelter, but making our elderly parent feel connected and useful is one of the most nurturing things we can do for them.