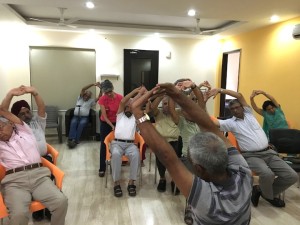 Naturopathy is a system of alternative medicine based on the theory that diseases can be successfully treated or prevented without the use of drugs, by techniques such as control of diet, exercise, and massage. It is based on a central belief that nature has strong healing powers.
Using a range of alternative methods of diagnosis, a Naturopath can often successfully pinpoint a predisposition in the body, before the onset of an acute disease, and treat the patient with specific therapies, and by making changes in the patient's lifestyle.
Naturopathy treatments include:
Dietary changes (for example, eating more whole and unprocessed foods)
Vitamins, minerals, and other dietary supplements and herbal medicines
Counseling and education on lifestyle changes
Hydrotherapy (for example, applying hot water, then cold water)
Manual and body-based therapies such as manipulation and mobilization
Exercise therapy
Mind-body therapies such as yoga and meditation
We have compiled some health benefits and ways to adopt naturopathy to enhance the health of our senior citizens in this article. Those with senior loved ones at home are well aware that dietary needs, physical abilities and immunity itself all change with age. Naturopathy includes numerous, easy to follow, steps to boost immunity of seniors. Herbal teas, dietary supplements and even some gentle exercises like tai chi fall under the category of naturopathy or naturopathic medicine.
Here are the benefits of and ways seniors can be benefited from Naturopathy:

1) Remember your vitamins: Taking a multivitamin supplement, along with a healthy diet rich in nutrients, boosts overall health as well as immune system. In particular, vitamins A, B2, B6, C, D and E have been studies in relation to immune response, and seem to play a key role in helping avoid illness.
2) Spend time in the Sun: Sun is the greatest source of vitamin D. Spending sometime in the natural light can be beneficial for the elderly body as it will manufacture Vitamin D. Vitamin D helps in producing antibodies and on the other hand deficiency of the vitamin have been associated with a higher risk of respiratory infection.
3) Eat more veggies: Vegetables as well as fruits, nuts and seeds are loaded with nutrients that are needed to keep our immune system in good health. Vegetables like cabbage, kale and broccoli help support liver function, a key part of our body's natural detoxification process.
4) Run a relaxing bath: A nice hot bath or relaxing aromatherapy scents help reduce stress and help in sleeping. Sleep is one of the key ways our bodies repair themselves.
5) Yoga and meditation help: Chronic stress can lead to a variety of negative effects on physical and emotional well being, including reduced immune response. Stress reducing activities like meditation, massage and even music can help us relax and improve our immune function.
6) Turmeric has the healing power: Particularly relevant for seniors, extracts of turmeric seem to play a role in preventing cancer, slowing Alzheimer's and alleviating arthritis pain.
7) Make room for shrooms: According to recent studies certain types of mushrooms, particularly Japanese mushrooms like shiitake and oyster mushrooms, help in the production of immune cells. They are loaded with antioxidants.
8) Herbal tea is a great choice: A soothing tea can help with relaxation, sleep and stress reduction. Herbal medicines are also believed to have a good impact on immune system. Of course you should always talk to a doctor before taking herbal treatments.
9) Spice up your cooking: Ginger and garlic not only add taste to your food but it also helps in boosting immunity level. Raw garlic in particular contains antimicrobial and cancer fighting agents, and ginger is known to be a natural remedy for nausea, colds and flu symptoms.
10) Keep on moving: Regular exercise contributes to our overall health in numerous ways, and a healthy body means a smoothly functioning immune system. Some forms of exercise, like tai chi and yoga are particularly suited for reducing stress and improving the strength, balance and flexibility that we often lose as we age.
Although naturopathy is prevention oriented, older people, who may already have a variety of afflictions, can benefit from this alternative health approach. Thus,naturopathy is always a great option for elderly people looking to maintain physical and mental wellbeing!
———-
Great Times by Samvedna is our new social and recreational club in Sector 43, Gurgaon, for members 55 years and above. Its a place where members come to get fit, make new friends and share their life experiences and give back to the community.
Activities at the club include fitness exercises, mind stimulation, tambola, dancing, book reviews, movies, community outreach, and talks on health management. The club has a library, computer room, visits by physiotherapists and doctors, access to board games and cards, a fully functional pantry with healthy and affordable snacks and tea and coffee on the house.
Transportation is available on select routes. There are special discounts for group memberships. The club is open Monday-Friday, 11am to 4pm. There are special classes for yoga, computers, spoken english, music and painting. We also have Bridge mornings every Tuesday and Thursday.
Call us for more info – 9818421446, 0124-4229659 | Address – Great Times, 1304 St. Thomas Marg, Sector 43 (Opp Shalom Hills School), Gurgaon