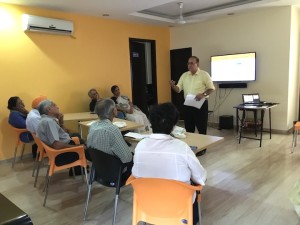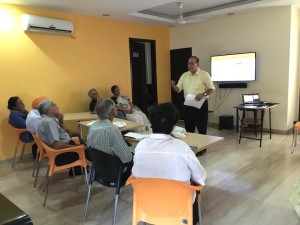 In this age of ecommerce and internet banking we realized that many seniors are still quite hesitant to use technology for their banking and shopping needs. There is a sense of vulnerability and insecurity of not getting it right. We were not surprised when we found out that only 20% of the participants in our workshop on "Internet Banking and Online Shopping" were actively transacting on the net.
While conducting the workshop we spent the initial hour talking about Internet Safety, Vulnerabilities and Frauds which seniors should watch out for. One of the participants Mr. Kanwar Mehta also shared his experiences of banking frauds which seniors are susceptible to and gave tips on how to handle those situations. We walked them step-by-step through the net banking features and encouraged them to start using the basics like checking the balances, getting statements and service requests etc.
We also did a demo of online shopping and helped them experience the ease of use and convenience in being able to do shopping within the comfort of your homes.
Here are 10 tips for all seniors to apply while doing Internet Banking or Shopping:
1) Adopt a safe mindset – Just like the real world you need to protect yourself in the internet space by customizing your privacy settings for your social networking accounts to protect yourself from spam mails.
2) Always use strong passwords, never use personal information such as your name, birthday, or spouse's name. Password should be at least six characters long, and include numbers, symbols, and both uppercase and lowercase letters if the site allows it.
3) Ensure that you are transacting your banking or shopping from a secure site, look for the https in the web address like https://www.icicibank.com. Review the SSL website certifications in your bank's url address.
4) Be aware of official looking notices from your bank, credit card company, or other financial institutions.
5) Never respond to emails, pop-ups, text messages, or phone calls from your financial institution asking for personal information. Always call to verify if there is a problem.
6) Never give out your CVV numbers on the phone to your bank representatives.
7) Avoid conducting any financial transactions from a public or shared computer or over a public wireless Internet connection.
8) Make sure to log out of the website and close all browser windows when you are finished.
9) While shopping online always identify a reputed secure online store and check for their physical address and support contact numbers.
10) Check for deals which seem to good to be true!
Enjoy your Internet banking/ shopping experience!
——–
Great Times by Samvedna is our new social and recreational club in Sector 43, Gurgaon, for members 55 years and above. Its a place where members come to get fit, meet like minded peopel and share their life experiences and give back to the community.
Activities at the club include fitness exercises, mind stimulation, tambola, dancing, book reviews, movies, community outreach, and talks on health management. The club has a library, computer room, visits by physiotherapists and doctors, access to board games and cards, a fully functional pantry with healthy and affordable snacks and tea and coffee on the house.
Transportation is available on select routes. There are special discounts for group memberships. The club is open Monday-Friday, 11am to 4pm. There are special classes for yoga, computers, spoken english, music and painting. We also have Bridge mornings every Tuesday and Thursday.
Call us for more info – 9818421446, 0124-4229659 | Address – Great Times, 1304 St. Thomas Marg, Sector 43 (Opp Shalom Hills School), Gurgaon