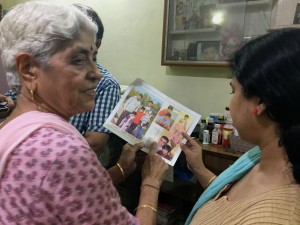 As caregivers, we are well aware of the powerful range of emotions felt by us and our loved one with dementia. People with dementia fluctuate between many different behaviors and moods ranging from being excited and cheerful, to sadness, crying and aggression. As we struggle in our attempt to deal with these mood changes, many of these negative mood states can transfer to us. They typically show up as sadness, anger, frustration and exhaustion.
There are many ways in which we try to deal with the emotional vulnerabilities of the person with dementia. When they are angry, we may try to console them. When they cry again and again, we may try to tell them repeatedly to stop crying. When they are scared, we tell them not to be. When they are confused and demonstrate repetitive behavior, we oscillate between telling them the same thing over and over again or not telling them at all.
In all these mood states—anger, sadness, fear, confusion—our attempts at resolution are very often unsuccessful. One big reason for this is that we are not only accepting the negative reality that they are presenting to us, we are also feeding it. It is well acknowledged that as caregivers, we should accept the reality of the person with dementia to help improve their self-esteem, happiness and to have healthier relationship with them. Accepting their negative thoughts and ideas can also help them bring relief of being understood. However, we need to do something to get them out of such negative mood states. Redirection is one way to do that.
10 tips for redirection
Redirection means to quite literally re-direct the attention of the person with dementia onto something else. The purpose of redirection is to help the person with dementia to feel better and get out of negative or unsafe behaviors. To successfully redirect your loved one, you need to modulate your own behavior, words, and gestures in a steady buy subtle manner. Redirection will require your entire attention and involvement.
Perseverance – The first tip is to not give up. It often takes a while to manage the behavior of a dementia loved one. That is alright.

 

Patience and perseverance will help you in your journey.
Less is more – try to reduce your impulsive reaction. Do not insist that the person does as you ask. Put less and less direct attention at what's bothering you about their behavior or emotion.
Love is stronger than fear – the person with dementia is more likely to listen to you if they feel loved and cared for and they feel like they can trust you. If you end up making them feel scared of you or ashamed, they are less likely to listen to you.
Tone will atone – the person with dementia can sense your tone. Remember, they can still sense emotions. It is important that you maintain a composed and pleasant tone.
Gestures – your body language will also speak out loudly to them. Make sure your facial expressions match the emotion you are exhibiting. Use comforting touches and display postures that are warm and inviting for the person listening to you.
Find out more – Try to understand the possible triggers for why the person is presenting the behavior. Answer questions like – Has he or she been too idle, do they need something to eat, and is the environment around them comfortable, etc. — to understand his or her plight better. You may ask some direct questions to find out.
Lose the logic – It is not easy for people with dementia to understand logic the same way that they did before. Even if they could, being 'scolded' or 'corrected' can make anyone defensive and non-receptive. It's important to empathize with their situation rather than blame them. The warmth in your behavior will make them more or less receptive.
Get their attention – To get the attention of the person, you need to think of what all they find interesting. Would they get excited if you offered them jalebi? Would they jump up when you talk about Nehru? Will they love to go out for a stroll to the garden? Your basic intention is to get the person interested and in a happier mood.
No idle time – Being idle can be a big reason for aggression and other negative moods states and behaviors. Avoid idle time altogether.
Get them busy – You can also use an alternative activity to divert their attention. An activity that is more hands on such as peeling peas or folding clothes could work. You can offer them tea or some food. You may even take them outdoors or to a different room. You could show them videos, or bring in a pet or even put on music.
---
We at Samvedna Care aim to help seniors live happy, active and independent lives, in the comfort of their home and community through interactive caregiving.
Samvedna Care was established in October 2013 with two complementary goals – firstly to provide quality home care services to seniors with limited mobility or dementia and hence social interaction, and secondly to facilitate stimulating community interaction and participation.
Our Dementia Care services are –
At-home services –
Dementia intervention activities by trained Care Specialists (already mentioned above). These services are available in Delhi NCR
More –https://www.samvednacare.com/service/dementia-care
Please call us for more info – Delhi NCR – 98184 21446, 124 4229659
Dementia Support Group –
Our Dementia Support group in Delhi NCR is a platform for caregivers to share feelings and support each other.
Please call us for more info – Delhi NCR – 98184 21446, 124 4229659
Cognitive Wellness Programme, Sector 57  Gurgaon  –
Samvedna's Cognitive Wellness Programme is designed for seniors with mild cognitive impairment, early dementia or Parkinson's, and elderly lacking in enthusiasm and motivation. The aim is to stimulate the mind of the elderly to slow the progression of the disease or impairment. The sessions are 3 days a week, 11AM-1PM.