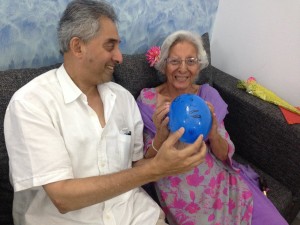 Dementia is a neuro-degenerative brain disorder which makes the patient's behavior more challenging as it progresses. The common issues are wandering, pacing, bathing, sun downing, agitation, hallucinations etc. However, the situation and the triggers for every patient may vary, but through some behavior modification by the family or caregiver it can be managed.
We at Samvedna Care have had the opportunity to work with more than 150 Dementia patients in their homes as well as interacted with hundreds of their family members through our Dementia Support group.  Since we work with the patients in their home environment we often get to see at very close quarters the challenges faced by the families.   Here is a list of some everyday hacks that can help in managing common challenges :
1) Distract and deflect
If your loved one with Dementia is beginning to get frustrated or lose their temper, change the subject. Offer them a cup of tea, comment on the weather, or change the TV channel to distract them from the thing that is irritating them.  One of our caregivers' mother used to forget after eating every time would become agitated and repeatedly ask about food. The daughter found that distracting her mother helped in such situations. Engaging her with music was another way she managed to get her attention diverted since the lady was fond of listening to bhajans.
2) Don't find logic
Our loved one has already lost their sense of judgment and reasoning, so we should not try to be logical with them. Correcting them every single time may trigger their agitation or also lower down their self-esteem. It is best to agree to their illogical explanation rather than correct them frequently.

3) Pick up a night light
Generally people in moderate and advance dementia get more agitated at night. The sun downing and dark rooms can add more confusion and insecurity to their life. Thus, night lights can be a surefire way to reassure them and help them in reorienting about the place. Moreover, a good night light will help them find their way to bathroom or kitchen and prevent falls.
4) Cover the doors
It becomes difficult to keep an eye all the time on patients who have wandering and pacing issues. Putting a mirror on the main door helps in dealing with wandering issues. One elderly used to go out whenever he found the main door open, but now, as soon as he comes in front of the door, he sees his reflection and thinks somebody else is standing there. So he just greets his reflection and comes back inside.
5) Make the staircase easier
People suffering from dementia may lose their visual perception too as the disease progresses. Staircase may become a risk factor for fall and other hazardous accidents. It is recommended to make the staircase more clutter free, brightly lit up, with contrasting color highlighting the edges to prevent falls.
6) Simplify the conversations
Communication with a dementia patient is a challenging task every caregiver faces in day to day life. It is recommended that one must use simple and specific words while picking up conversations with their loved ones. We should follow their pace; try to get their thought process, help them with vocabulary and also give them options to make it easy for them.

7) Flameless candles
Aroma or scented candles may help to calm down anxiety and agitation in dementia. Caregivers shared that aroma candles help their loved to have a sound sleep and for some of them it helps to manage bathing difficulties. 

8) Soothing Music
Playing the elderly's favorite songs is not just soothing and relaxing, it also helps in rekindling old memories. Seniors feel more connected to older songs and enjoy listening and even doing karaoke singing.

9) Handling Repetitive behavior
There can be numerous ways to handle repetitive behavior in dementia. Here is a great tip shared by one of our Care Specialist whose client used to repeatedly ask "what to do, now?" He along with the family members helped form a routine for the lady and wrote down her day activities on a white board, placed in her room. This helped redirect her to get answers to her questions by simply checking the white board.

10) Reintroduce yourself
Often a person with dementia fail to recognize people they already know. Instead of getting frustrated or asking them to recall, one must reintroduce themselves every time during the conversation. It helps the elderly be more comfortable and boosts their self-esteem.
Each patient is different and the home environment varies for every family. Sometimes one has to try different things a few times to see what triggers the behavior and adapt accordingly.
---
We at Samvedna Care aim to help seniors live happy, active and independent lives, in the comfort of their home and community through interactive caregiving.
Samvedna Care was established in October 2013 with two complementary goals – firstly to provide quality home care services to seniors with limited mobility or dementia and hence social interaction, and secondly to facilitate stimulating community interaction and participation.
Our Dementia Care services are –
At-home services –
Dementia intervention activities by trained Care Specialists (already mentioned above). These services are available in Delhi NCR
More –https://www.samvednacare.com/service/dementia-care
Please call us for more info – Delhi NCR – 98184 21446, 124 4229659
Dementia Support Group –
Our Dementia Support group in Delhi NCR is a platform for caregivers to share feelings and support each other.
Please call us for more info – Delhi NCR – 98184 21446, 124 4229659
Cognitive Wellness Programme, Sector 57  Gurgaon  –
Samvedna's Cognitive Wellness Programme is designed for seniors with mild cognitive impairment, early dementia or Parkinson's, and elderly lacking in enthusiasm and motivation. The aim is to stimulate the mind of the elderly to slow the progression of the disease or impairment. The sessions are 3 days a week, 11AM-1PM.