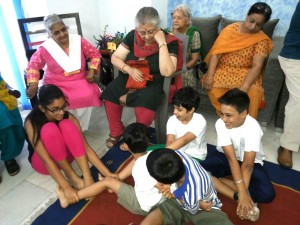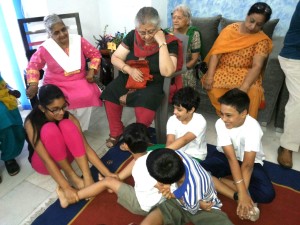 The chains of relationships between aging parents, adult children and grandchildren are known as intergenerational relationships.
As society has changed and evolved, so have the family ties changed over time. All families are different, and therefore different families interact in different ways. Some families are close-knit, and have frequent contact with each other and give importance to providing care as it becomes necessary for aging loved ones. Other families may feel simply an obligatory sense of duty when it comes to caring for each other, but may not share the same emotional bond.
When people are raised in different time periods, their values and perceptions of the world can be quite different, and this can lead to difficulties in understanding one another. The generation gap is widening due to fast changing lifestyle, globalization, migration of young and influence of diverse ideologies. Because of this gap in understanding between generations, it is important for one generation to make a special effort to understand the other generations. Parents and caregivers can create opportunities for children and older adults to spend time together in order to build a relationship.
Adults who experienced close intergenerational interaction are less prone to depression and have better physical health as they feel more active and productive. They tend to be happier with their present life and more hopeful for the future.
Intergenerational bonding is good for everyone, and also has many benefits starting from improving the immune system to enhancing social intelligence.
It provides an opportunity for both to learn new skills.
It gives the child and the older adult a sense of purpose.
Helps children to understand and later accept their own aging.
Engaging with children invigorates and energizes older adults.
It prevents the isolation and loneliness of older adults.
Intergenerational sharing helps in keeping family stories and history alive.
It is an aid in cognitive stimulation as well as broadening social circles especially when the youth introduce technology into the life of older adults.
It also improves mental health so that they can perform better on memory tests, and those with dementia also experience positive effects.
It reduces feelings of sadness as these are experiences they enjoy and look forward to.
It increases their self-worth and self-esteem along with improved performance.
Developing connections with a younger generation can help older adults feel a greater sense of fulfillment.
---
We at Samvedna Care aim to help seniors live happy, active and independent lives, in the comfort of their home and community through interactive caregiving.
Samvedna Care was established in October 2013 with two complementary goals – firstly to provide quality home care services to seniors with limited mobility or dementia and hence social interaction, and secondly to facilitate stimulating community interaction and participation. All our senior care specialists are psychologists or gerontologists.
Here are some of our services –
General Wellbeing:
With our General Well Being Services we aim to raise the quality of life of seniors, specially those who may have limited mobility and social interaction due to various constraints. Our interactive programme keeps them active and engaged through physical, mental and social activities, all in the comfort of their home.
Great Times by Samvedna is our social and recreational club in Sector 57, Gurgaon, for members 55 years and above. Its a place where members come to get fit, meet like minded people and share their life experiences and give back to the community.
Activities at the club include fitness exercises, group meditation, mind stimulation, tambola, dancing, book reviews, movies, community outreach, and talks on health management. The club has a library, computer room, visits by physiotherapists and doctors, access to board games and cards, a fully functional pantry with healthy and affordable snacks and tea and coffee on the house.
There are special discounts for group memberships. The club is open Monday-Friday, 11am to 5pm.There are special classes for yoga, smart phones, computers, spoken english, dance, music and painting. We also have Bridge mornings every Tuesday and Thursday. Call Great Times Club at 9818421446, 0124-4229659.
Know more here – Great Times Club