Dementia Support Group: Impact of Social, Physical and Cognitive Interventions
On 6th October 2018, we conducted our Support Group Meeting for caregivers of dementia patient. A large group of caregivers from in and around Gurgaon and Delhi came to attend the session. The main agenda of the session was to acknowledge the pain of caregivers and to help them in their needs. The topic of the session was "Dementia Management Impact of Social, Physical and Cognitive Interventions. The session was unlocked by Dr. Jayashree Dasgupta, MPhil, PhD, Neuropsychology, NIMHANS, who is the Project Director of Samvedna Senior Care.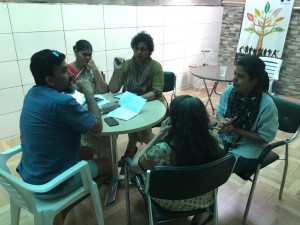 It started with a brief icebreaking session where all the participants (caregivers) introduced themselves and shared their experiences about their loved ones and their relation with Samvedna Senior Care.
Dr. Jayashree Dasgupta initiated the talk while focusing on various aspects of caregiving. She shared the concept of stigma and how it affects the mental well-being of family members. One of the caregivers shared why it is important to share the truth about the disorder to the patient instead of hiding it from the patient. In the same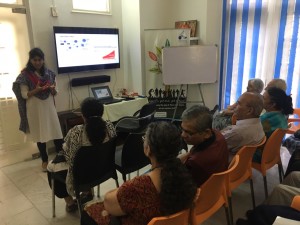 discussion some caregivers also pointed out that how difficult it is to apply this notion in Indian context. Further, it was covered the importance of Cognitive Stimulation Activities and why it is important to indulge the patients into activities or hobbies that they use to love doing. Caregivers also shared the issue in socializing and Dr. Jayashree address this issue and suggested solutions. Lastly the session ended with question and answer rounds where some caregivers discussed their problem and how Samvedna Senior Care can help them.
---
We at Samvedna Senior Care aim to help seniors live happy, active and independent lives, in the comfort of their home and community through interactive caregiving.
Samvedna Senior Care was established in October 2013 with two complementary goals – firstly to provide quality home care services to seniors with limited mobility or dementia and hence social interaction, and secondly to facilitate stimulating community interaction and participation.
Our Dementia Care services are –
At-home services –
Dementia intervention activities by trained Care Specialists (already mentioned above). These services are available in Delhi NCR
More – http://www.samvednacare.com/dementia-care
Please call us for more info – Delhi NCR – 98184 21446, 124 4229659
In-Home Trained Attendant Service
Samvedna Senior Care's trained in-home attendant service brings to you verified attendants and nurses, specially trained by specialists in elder care and dementia. Our staff is trained to not only take care of your elderly loved one's physical wellbeing through top class personal care and nursing, but also their emotional wellbeing.  The attendants are monitored by our Senior Care Specialists (psychologists and MSWs)
Our service is available across Delhi, Gurgaon and Noida. We offer both male and female attendants as per request, for 12 and 24 hour shifts.
Know more about our Trained Attendant Services here http://www.samvednacare.com/attendant-care-services. You can also call us on 98184 00561 or write to us on contact@samvednacare.com.
Counselling for Ageing Related Disorders in Anand Niketan, New Delhi –
Studies show that elderly may be more prone to depression and loneliness, which can lead to higher rates of unhappiness. To address this issue, we have designed counselling and therapies for seniors with anxiety, low mood or depression, mild cognitive impairment/ memory difficulties, or dementia.
More – http://samvednacare.com/geriatric-counselling
Dementia Cafe, Sector 57 Gurgaon –
From initial stage to advanced stage, all individuals with dementia feel the need for social interaction at times. Our Dementia Cafe is a safe and friendly place for your loved one with dementia to chill and socialize. The cafe is aplace where they will find a fun activity, a warm chair and companionship. Every Tuesday and Thursday, 11-1PM.
More – http://www.samvednacare.org/our-work/dementia-cafe
Cognitive Wellness Programme, Sector 57  Gurgaon  –
Samvedna's Cognitive Wellness Programme is designed for seniors with mild cognitive impairment, early dementia or Parkinson's,and elderly lacking in enthusiasm and motivation. The aim is to stimulate the mind of the elderly to slow the progression of the disease or impairment. The sessions are 3 days a week – Monday, Wednesday and Friday, 11AM-1PM.
More – http://www.samvednacare.org/our-work/cognitive-wellness-programme
Dementia Support Group –
Our Dementia Support group in Delhi NCR and Guwahati is a platform for caregivers to share feelings and support each other.
More – http://www.samvednacare.org/our-work/dementia-care
Please call us for more info – Delhi NCR – 98184 21446, 124 4229659