Why your elderly loved one should own fewer things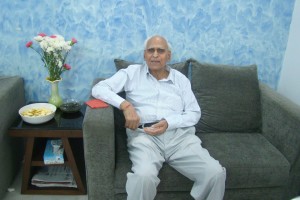 Simplifying yourself and your life is always a positive step ahead and it is never too late for it. It not only means simplifying it emotionally and psychologically, but also de-cluttering our surroundings and environment. This is specially important when we have elders around. Here are some points why it is healthier for us to own fewer material things in the golden years.
1) Prevents falls and related hazards – Seniors should stay in an environment which is less cluttered and easy to navigate. A safe environment is a must for the elderly in order for them to feel comfortable in everyday living. Cutting down on things that your elderly loved one owns will help in reducing the risk of tripping and falling.
2) Lesser things to clean and maintain – Maintaining things that one owns requires an ongoing effort and is physically demanding, more so for seniors.
3) Easy to remember – If your elderly parents own less it will become easier for them to recall and remember where they have kept what. It will become easy for them to locate things needed at a particular moment, specially in the case of an emergency.
4) One step towards peace of mind – Maintaining things one owns is a task which is often a source of stress for people. Adopting a minimalist approach/lifestyle for your elderly loved one will help in reducing this stress.
5) Cuts down the expense – The more things you own, the more you spend on acquiring and later maintaining them. It economical to own lesser things. For e.g. fewer appliances that can do multiple functions can help in cutting down the electricity bill.
If you feel your parent owns more things than they are being able to manage, it is a good idea to encourage them to give away some of the things they own to people in need. This will not only help them de-clutter, but also give them make them feel good about helping someone.
Adopting a minimalist lifestyle and owning only what is essential will help your elderly loved ones lead a simpler, safer and happier life!
---
About Samvedna Senior Care
We at Samvedna Senior Care aim to help seniors live happy, active and independent lives, in the comfort of their home and community through interactive caregiving.
Samvedna Senior Care was established in October 2013 with two complementary goals – firstly to provide quality home care services to seniors with limited mobility and social interaction due to various constraints, and secondly to facilitate stimulating community interaction and participation. We also have services for Dementia care.
Our skilled and passionate team of Care Specialists and Activity Centre facilitators, with training in gerontology and clinical psychology, has experience in working with senior citizens from multiple cultures and countries.
Some of our services:
 1) Emergency and Respite Care – Our emergency support service is for times when an elderly needs assistance in a hurry. In case of an emergency like a fall, sudden illness or unplanned travel, we are one phone call away, ready to step into action and deal with things. The services include ambulance assistance, an on-call helpline (8am-8pm), hospitalization support and more.
Respite care services give caregivers an opportunity to leave home for a few hours for errands, appointments or simply to unwind, with the peace of mind that comes with knowing their loved ones are in capable hands.
2)  Workshops and Events – We conduct many workshops and outings for seniors throughout the year to promote healthy and active aging. We get experts in their fields to conduct these workshops. In 2016 we organized over 40 workshops for close to 1000 senior citizens. These workshops are on technology, emotional wellbeing, health and fitness and recreation.
Know more here – Workshops and events by Samvedna
3) Great Times by Samvedna is our social and recreational club in Sector 43, Gurgaon, for members 55 years and above. Its a place where members come to get fit, meet like minded people and share their life experiences and give back to the community.Activities at the club include fitness exercises, group meditation, mind stimulation, tambola, dancing, book reviews, movies, community outreach, and talks on health management. The club has a library, computer room, visits by physiotherapists and doctors, access to board games and cards, a fully functional pantry with healthy and affordable snacks and tea and coffee on the house.
There are special discounts for group memberships. The club is open Monday-Friday, 11am to 5pm. There are special classes for yoga, computers, spoken english, dance, music and painting. We also have Bridge mornings every Tuesday and Thursday.
Know more here – Great Times Club