Piali, from the US, on her experience with Samvedna's at-home services for her mother in Delhi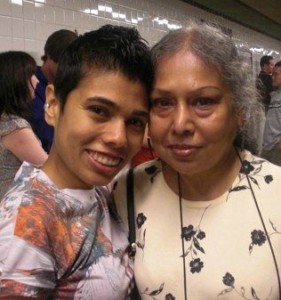 I am Piali and I live in the US. My aging mother lives alone in Delhi. I am very grateful to have found a service like Samvedna Senior Care for my mother, since it is a service that does not impinge on her independence or sense of self but supports her (with kindness and caring) in some of the minutiae of daily life that have started to get overwhelming with age and her failing health.
Mother has no other relatives local to her who are able to help her out in a bind or look after her when she is ill – which has become more frequent. She has some friends / neighbours who are kind and helpful and while she is mostly independent, I desperately needed to have an infrastructure in place for both her and me to have peace of mind in case of emergencies and for her to have someone available as a resource to her for a multitude of things on a weekly basis in the way that I would be available to her (everything from a cell phone question to local pharmacy research/resource help). Lastly, I needed someone to go with her to her various doctors and report to me accurately about her health since she is reluctant to worry me with these details or sometimes forgets them. Samvedna Senior Care has helped to bridge these gaps for me and provided me with much peace of mind and has eased my mother's anxiety around a lot of these issues.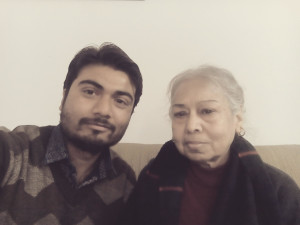 My mother's social worker Saad, who has built a relationship with her over the last year and has gone over and beyond to help her out in all kinds of small and big ways. I appreciate that attention and care he provides weekly – particularly when my mother is unwell and therefore has a hard time accessing everyday things like getting medicine from the local market or help with things that overwhelm her like filling out official forms. I also very much appreciate the reports after every visit.
---
Samvedna Senior Care was established in October 2013 with two primary goals – dementia care and active ageing. Our aim is to cater to the intellectual and emotional wellbeing of seniors in Delhi NCR. We help them live happy, active and independent lives, in the comfort of their home and community through interactive caregiving.
Our aim is to provide quality home care services to seniors with limited mobility or dementia, and to facilitate stimulating community interaction and participation.
Emergency and Respite Care:
Our emergency support service is for times when an elderly needs assistance in a hurry. In case of an emergency like a fall, sudden illness or unplanned travel, we are one phone call away, ready to step into action and deal with things. The services include ambulance assistance, an on-call helpline (8am-8pm), hospitalization support and more.
Respite care services give caregivers an opportunity to leave home for a few hours for errands, appointments or simply to unwind, with the peace of mind that comes with knowing their loved ones are in capable hands.
More – http://www.samvednacare.com/emergency-respite-care
General Wellbeing:
With our General Well Being Services we aim to raise the quality of life of seniors, specially those who may have limited mobility and social interaction due to various constraints. Our interactive programme keeps them active and engaged through physical, mental and social activities, all in the comfort of their home.
More – http://samvednacare.com/general-wellbeing