6 ways to look after elderly parents when living away from them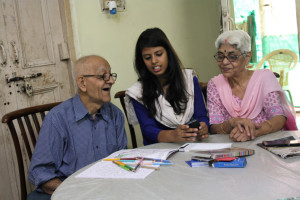 With more people moving away from their homes for better opportunities, today's families tend to be further apart than ever before. But when the parents living at a distance begin to show signs that they are no longer able to care for themselves or handle the responsibilities of day-to-day living, ensuring their continued well-being can pose a significant challenge for their adult children.
While trying to be caregiver to parents on whom once we were dependent, we always try to find the right way for their well-being. But there is no "one right way" to be a caregiver; everyone's situation is different. You will find that among a host of things; family dynamics, financial resources and the abilities of your parents matter the most.
But one can expect the caregiving responsibilities to include, at a minimum, the following key functions:
Information gathering from your parents about their physical, emotional and social environment and needs
Reading up on websites, books, word of mouth, on how to provide good care
Scheduling, coordinating and monitoring medical care and respond to their emergencies
Provide companionship for their emotional and social wellbeing
But how does one care for parents with whom you do not live? Here are some points to consider to help you look after your loved ones while staying away from them:
1) Stay in touch with them
Do plan on traveling to visit them as frequently as you and your work can afford. Call them regularly, let them know you are there to talk and listen to their worries.
2) Use technology
Scheduling a weekly Skype call with parents and grandparents is an ideal way to keep in regular contact. Grandchildren can share the highlights of their week or tell them stories about their school or special events. Family members can remain actively involved in one another's lives without being physically in the same location.
You can also monitor their physical condition and health care treatment plans with doctors remotely.
3) Adapt to their needs
But for older people who have not embraced the Internet and mobile telephones, maintaining contact will take more time, effort and planning. Weekly telephone conversations, cards on birthdays and special events, letters with photos and drawings from grandchildren – all signal to parents/grandparents that you are thinking of them and making the effort to keep in touch.
4) Appoint an overseer
Family dynamics are complex, in every family there is generally one individual with a practical streak whom everyone identifies as the go-to person in times of family stress. Make sure that they live close to your parents and are willing to take on the role of the family manager. This will ensure prompt response and trusted care for your parents.
The family manager should be informed that you will be relying on them for factual information about your parents, when their independence and health deteriorate.
Seek professional services to help you with this role where family members are not available due to various constraints.
5) Help them stay engaged
A significant problem for elderly people is isolation and loneliness. This is the time that their peers, friends and family members may become incapacitated through illness or pass on. Social contact and a life purpose are important to everyone at all stages of life.
Encourage your parents to get involved in social clubs, kitties, exercise programmes — things that they have expressed interest in but need a push to join. This will open new connections and regular social events within their own surrounding.
6) Plan for the future
Encourage parents to be active in planning for their own ageing. Discuss with them about where they would like to live, their medical arrangements, their legal arrangements; all tasks that need to be completed while your parents can express their wishes fully. It is best to make informed decisions and plan for the future while their mental and physical faculties are intact.
Caring for parents who do not live with you does pose as a challenge but with help and proper planning one can manage to do things to ensure their well-being.
---
Samvedna Senior Care was established in October 2013 with two primary goals – dementia care and active ageing. Our aim is to cater to the intellectual and emotional wellbeing of seniors in Delhi NCR. We help them live happy, active and independent lives, in the comfort of their home and community through interactive caregiving.
Our aim is to provide quality home care services to seniors with limited mobility or dementia, and to facilitate stimulating community interaction and participation.
Emergency and Respite Care:
Our emergency support service is for times when an elderly needs assistance in a hurry. In case of an emergency like a fall, sudden illness or unplanned travel, we are one phone call away, ready to step into action and deal with things. The services include ambulance assistance, an on-call helpline (8am-8pm), hospitalization support and more.
Respite care services give caregivers an opportunity to leave home for a few hours for errands, appointments or simply to unwind, with the peace of mind that comes with knowing their loved ones are in capable hands.
More – http://www.samvednacare.com/emergency-respite-care
General Wellbeing:
With our General Well Being Services we aim to raise the quality of life of seniors, specially those who may have limited mobility and social interaction due to various constraints. Our interactive programme keeps them active and engaged through physical, mental and social activities, all in the comfort of their home.
More – http://samvednacare.com/general-wellbeing